Other Service & Project Proposals
Proposals for Service Improvements and Expansions
---

Over the last two decades there has been little or no change in Amtrak on-board passenger service in the state. In fact, there have been reductions to onboard service, specifically when café food service on many NYC-Albany 'Empire Service' trains was eliminated in 2005 by Amtrak. This cut included the closure of the Amtrak commissary at the Rensselaer station, resulting in operating café cars not being properly stocked. As a result, trains frequently run out of food and drink on their return trips from Western NY and Canada to New York City, where they are stocked at the Amtrak commissary in Sunnyside Yard, Queens.
ESPA supports restoring café car service on all trains in New York State and the re-opening of the commissary base in Rensselaer. These issues have a budgetary aspect because they could increase the subsidy paid by New York State taxpayers to Amtrak under PRIIA Section 209. However, reforms enacted since 2005 by Amtrak to its food and beverage service have resulted in reduced losses, with Café Car revenue on the Northeast Corridor now exceeding its costs.
As a result, we at ESPA believe that restoration of full food service will greatly enhance onboard service, support the goal of selling more 'Taste NY' food and beverages currently stocked in Empire Corridor cafe cars, while being largely cost neutral to the state government. You can help by contacting your local state representatives and the governor's office on this issue of reopening the Albany-Rensselaer commissary and restoring café service to all Empire service trains. By making your voice heard you will push this issue up in priorities of our state government. Also Give "Expanded Food Service" your "like" on Facebook: Hudson Valley Food Service on Amtrak
---
ESPA proposes the addition of a baggage car on one of the state's supported corridor trains, the NYC-Niagara Falls Maple Leaf being the ideal train. A baggage car on the Maple Leaf would permit checked baggage at stations that now provide baggage service to the Lake Shore Limited, as well as the new stations at Buffalo Exchange Street and Niagara Falls. Having a baggage car on the popular Maple Leaf would remove excess luggage from often crowded coach cars, where it can block aisleways, impeding mobility of passengers. Of equal importance is the ability to store bicycles and other sporting equipment in the baggage car, thus opening the opportunity for downstate residents for example to bring bicycles to tour the Erie Canal Trailway or bring hockey equipment to the tournaments Upstate. Amtrak has completed the acceptance of an order of new Viewliner baggage cars – built by CAF USA in Elmira Heights NY – so the equipment is available.
Other states have successfully worked with Amtrak to increase bicycle capacity on trains to promote tourism travel. The State of Pennsylvania recently added a baggage car to the NYC-Philadelphia-Pittsburgh Pennsylvanian at an estimated cost of $300,000 annually. However, Amtrak provides a discount to Pennsylvania because their baggage car provides a through service connection with an Amtrak long-distant train, the Capitol Limited. Thus, the cost would be higher for New York State. In addition to the Maple Leaf the Adirondack would benefit from a baggage car, however this is more difficult because there are no stations providing service north of Schenectady to Montreal, only Saratoga Springs is staffed by Amtrak, and then there is the complication of customs and border inspection.

RIGHT: Amtrak new Viewliner baggage car on factory floor. LEFT: Bikes being unloaded at Saratoga Springs
---
Another short-term improvement to onboard service we at ESPA advocate for is that Amtrak base a team of cleaners at Albany-Rensselaer who would board Empire Corridor trains at the station and clean them enroute. These cleaners could detrain at Utica, catching a return train east that they would also clean. Due to the length of train trips in both time and distance from Penn Station to Niagara Falls, restrooms can become… unpleasant, while garbage bins can overrun. Having them refreshed midway through journeys would be a small but meaningful way to improve onboard service, making rail a more attractive alternative to driving or flying.
---
Preclearance at Montreal
The Canadian Parliament recently ratified a treaty with the USA allowing for joint US-Can customs to be done at Montreal Central Station for Amtrak's NYC-Montreal Adirondack, eliminating the need for the current length border stop. Customs pre-clearance will require building a dedicated facility within the existing Montreal station for the Adirondack, and a future extension of the Vermonter. This is a project that Amtrak and other parties have been working on for many years. The New York State Department of Transportation (NYSDOT) should follow up and work with the stakeholders – Amtrak, VIA Rail (owners of Central Station), Vermont, and Quebec – to see this worthy project proceed forward to completion.
---
Adding Seats
UPDATED 2022
Amtrak unveiled the next generation 'Airo' trainsets in a press event on Thursday, December 15, 2022 at New York's Moynihan Train Hall. At the event Amtrak President Roger Harris noted "As we invest in the future, Amtrak is leading the way with a new era of rail. Our new trains will transform the Amtrak experience with significant environmental benefits, a progressive design and world-class amenities." The new trains will elevate the journey with a focus on comfort and efficiency.
The new trainsets are in production at Siemens Mobility's plant in Sacramento, CA. The first cars are expected in 2025, with revenue service to start in 2026 (on the Pacific Northwest Cascades Service). The trainsets will fully replace the nearly 50-year-old Amfleet I cars currently used around the country and on the Empire Corridor.
When introduced into New York State service in the 2029 - 2030 timeframe, the trainsets will cover all Empire Corridor trains, the Maple Leaf and the Adirondack. The current order calls for 17 unique dual mode diesel-battery units for use in & out of Penn Station (and potentially Grand Central Terminal). The trainsets are expected to consist of one locomotive and six cars, which will include coach class, business class and a fully re-designed Cafe car. The trainsets will be bi-directional with an cab car on the end opposite the locomotive.


Adding Seats
(Original Text 2020)
There is a significant lack of seats for Empire Corridor trains at peak travel times in the Empire Corridor at peak travel times. The easiest and cheapest way to fix this is to add coaches to existing trains. Currently many trains sell out, especially south of Albany and on holidays. High demand south of Albany makes it hard to find seats for travel north and west of Albany. In the short term NYSDOT should negotiate with Amtrak for an increase in the current pool of coaches dedicated to the Empire Corridor, to increase train lengths. Long term NYSDOT should work to replace and expand the coach fleet for the Empire Corridor as Amtrak moves forward to replace its current 40-year-old Amfleet fleet coaches with new "single-level corridor" equipment. Increase ridership would improve cost-recovery and provide an environmentally friendly alternative to driving and flying.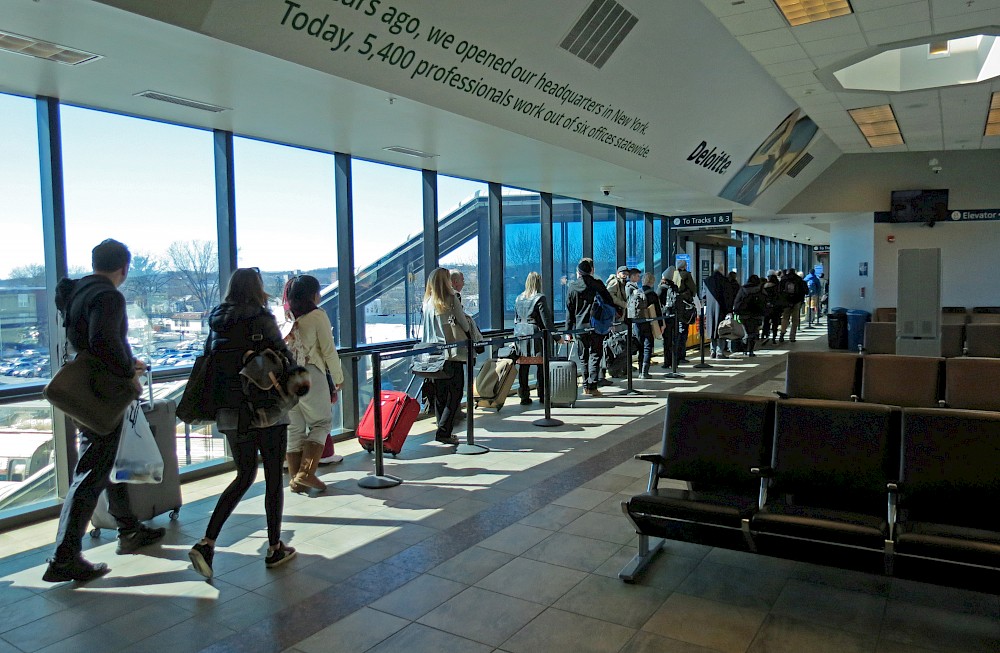 Passengers waiting to board an Amtrak train at the Albany-Rensselaer Rail Station
---
Travel Packages
NYSDOT and I Love NY should negotiate with Amtrak to allow more promotional fares and travel packages in New York State. Amtrak offers promotional fare codes within its reservation system allowing vacation travel providers to offer discounted tickets and travel packages at off-peak travel times. Maine has acquired this to boost travel on its state-supported Boston-Portland Downeaster corridor service. Establishing an Amtrak Promo "V-Code" for the Empire Corridor would allow discount travel packages for Upstate destinations overlooked by Amtrak Vacation Packages but served by Amtrak, just as in Maine today.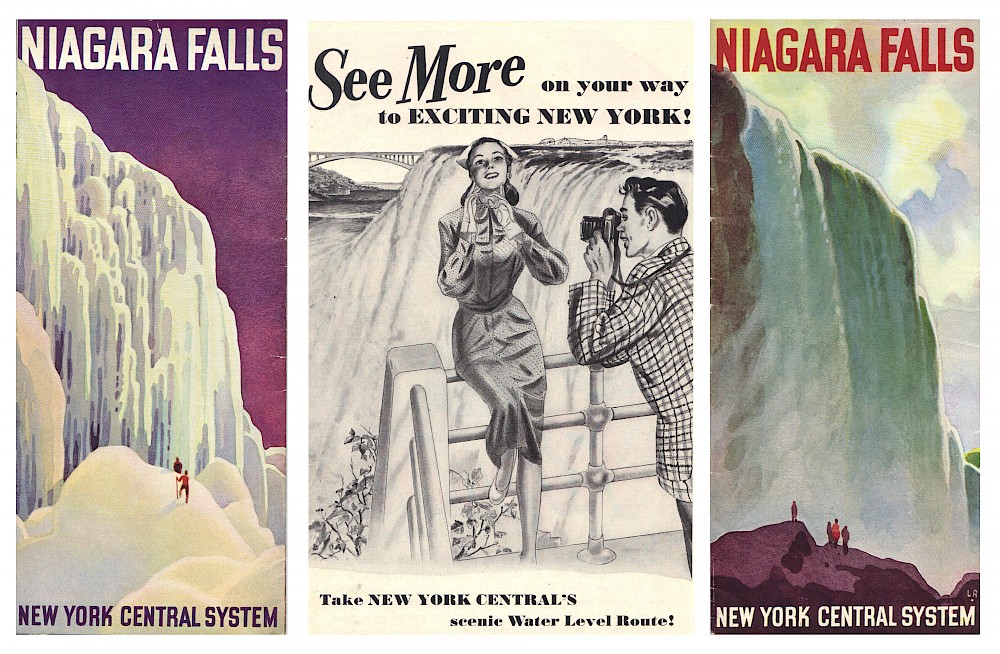 New York Central era print ads of Niagara Falls, a tourist attraction heavily promoted by the railroad.
---
Livingston Avenue Bridge Replacement

ABOVE: Rendering of the Replacement Span for the Livingston Ave Bridge, released by NYSDOT in 2022
---
UPDATE 2022 DECEMBER
NYSDOT Moving Forward on LAB Replacement
Construction on Livingston Avenue bridge to start in 2023
Department of Transportation Commissioner Marie Therese Dominguez said Wednesday December 21, 2022 that the Livingston Avenue Bridge Project has cleared a key federal environmental hurdle, allowing DOT to move into the final design phase of the project. The state hopes to start construction on the new $400 million Livingston Avenue Bridge by the end of 2023.
The current bridge, owned by CSX and leased to Amtrak, was built in 1902. Its pilings date to 1866. It has a pedestrian walkway that has been closed for decades due to neglect. Neglect also limits trains crossing the bridge to just 15 mph. The new bridge will support speeds up to 40 mph, according to the state. As far back as 2010 the DOT said, "Recent inspections indicate that the bridge structure is approaching the end of its serviceable life," according to a Times Union report.
The new design will also change from a movable swing bridge to a lift-type bridge. The changes will bring the structure in line with modern standards. The DOT is recommending the new structure be built just south of the existing bridge, carrying two railroad tracks. The shared-use path will connect with the Empire State Trail, the city's Skyway Park and a planned park on the Rensselaer side.
---
UPDATE 2022 SPRING
NYSDOT Releases Livingston Avenue Bridge Replacement Environmental Assessment
The New York State Department of Transportation (NYSDOT) is proposing to replace the Livingston Avenue Bridge which spans the Hudson River between the cities of Albany and Rensselaer; a critical rail link on New York State's Empire Corridor. The current bridge structure dates to 1901-03 and rests on piers in the river dating from 1865. Trains are currently restricted to 15mph when crossing the river and only one train can be on the bridge at a time. The preferred alternative is a new double-track, lift-span, bridge immediately adjacent & south of the current bridge. The design includes a shared pedestrian/bike path across the new bridge, safely separated from the rail operations.
---
Livingston Avenue Bridge Replacement
(Original Text 2020)
A major capital investment that needs to begin soon is the replacement of the Livingston Avenue Bridge (LAB bridge) over the Hudson River between Albany and Rensselaer. The Livingston Avenue Bridge, its stone piers dating to just after the Civil War, is at or beyond its useful life, needing replacement to insure continued Amtrak service west and north of Rensselaer. A replacement bridge would improve rail safety, reduce travel times slightly (current bridge has 15-mph speed limit), and create an opportunity to provide pedestrian and bicycle access across the Hudson (with necessary safety barriers/enclosures to separate bicycles from trains). Again, federal matching funds are available for this State of Good Repair and safety project. The State has already invested $2 million in preliminary design and now is the time to begin the final replacement design and develop a timeline for the construction project.

The Livingston Ave Bridge from the north, with Albany on the right and the Amtrak Rensselaer Maintenance Facility to the left.
---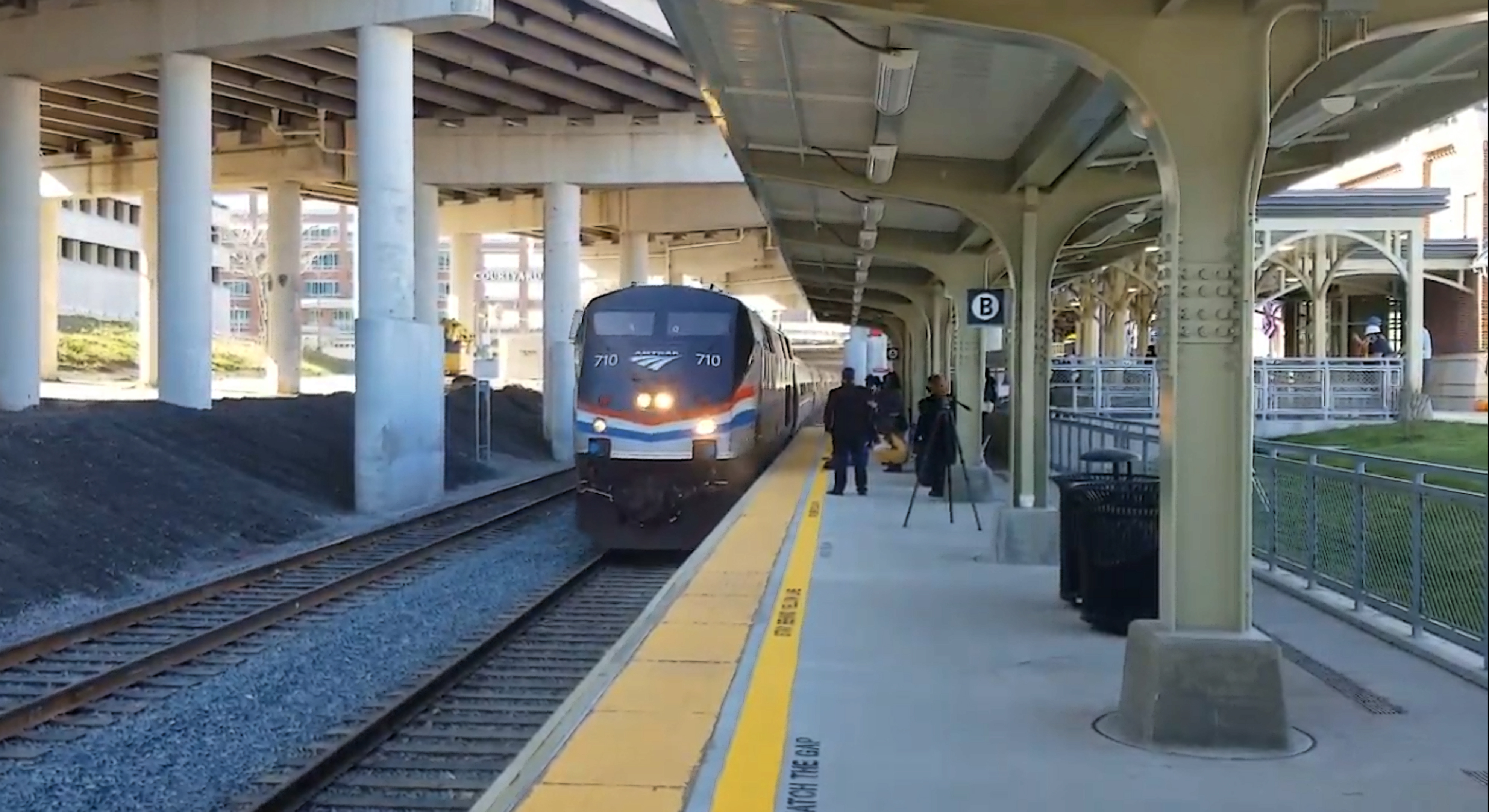 New Rail Stations
Among several medium-term potential capital projects for the Empire Corridor include several proposed station projects, including Amsterdam, Dunkirk, and Albany-Colonie. New York State has a particularly good record on station renewals, with stations at Niagara Falls, Buffalo-Exchange, Rochester, and Schenectady rebuilt over the past decade.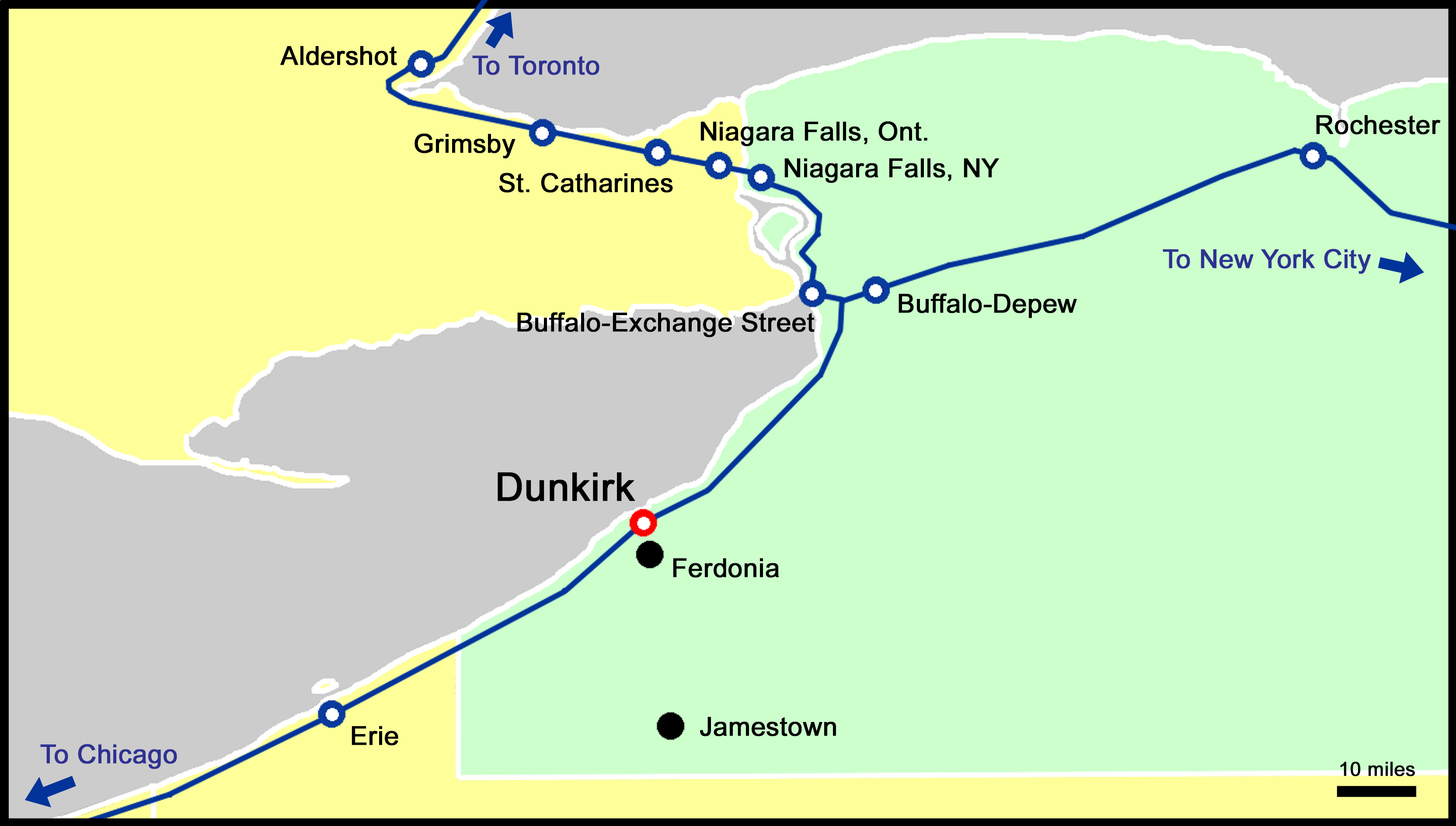 Dunkirk
Dunkirk, the westernmost city of the state in Chautauqua County, is forty miles southwest of Buffalo on the shores of Lake Erie currently has no Amtrak service but could if the New York-Boston-Chicago Lake Shore Limited that passes through every day made a station stop. Dunkirk has a population of about 12,000 residents, with the State University of Fredonia located only two miles away, Fredonia having a population of about 11,000. Dunkirk was served by several long-distance trains through the New York Central to Penn Central till the start of Amtrak in May 1971, when service west of Buffalo was not included in the initial barebones Amtrak system. Since then, there has been interest in restoring passenger rail service to the city by having the Lake Shore (current service started in 1975) make a stop.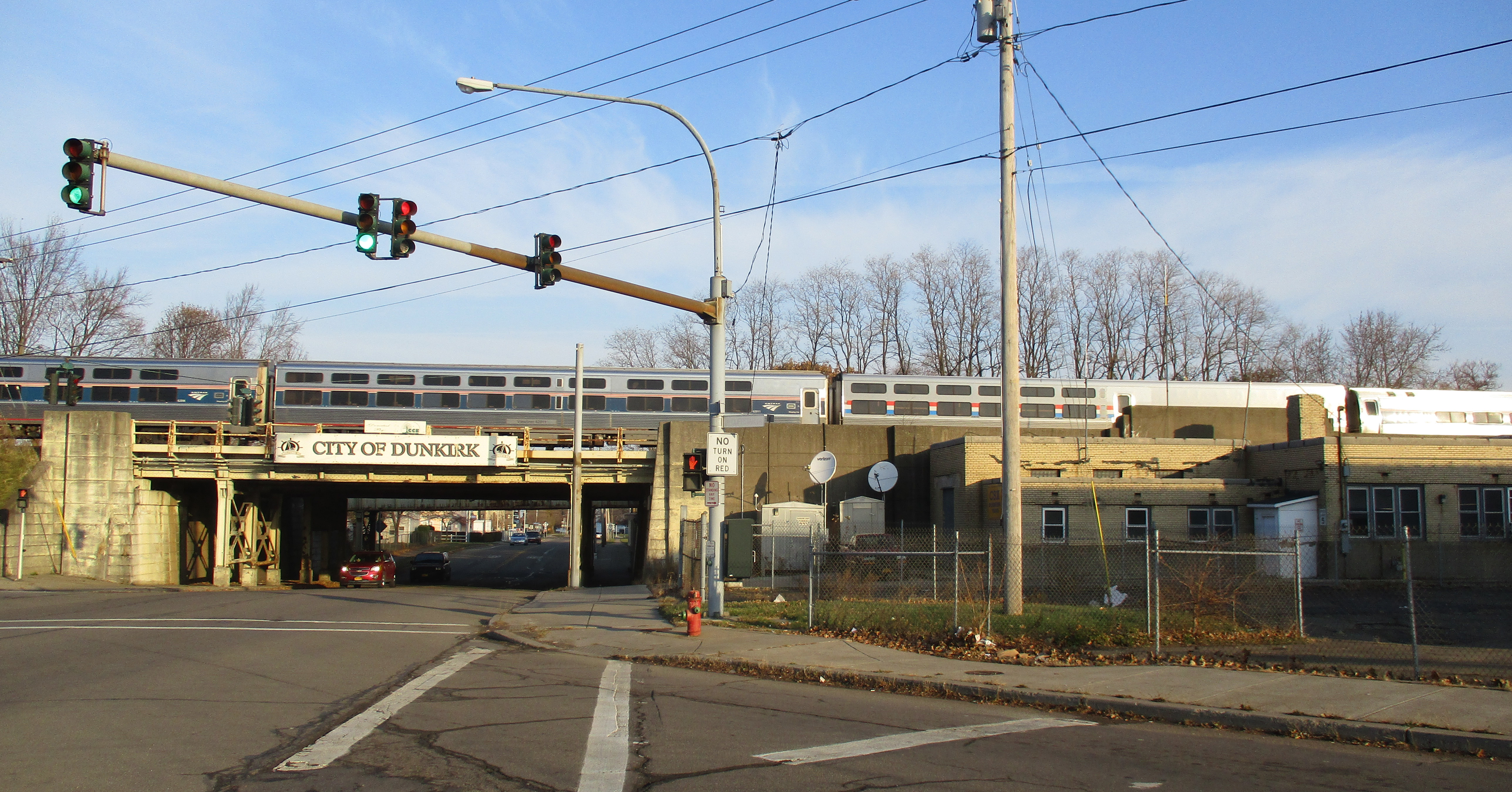 ABOVE: Amtrak's Lake Shore Limited passing the old New York Central Station, over to the right, in Dunkirk, NY. (Photo Roy Davis)
The 2001 Dunkirk Intermodal Facility feasibility study documented the one-time total costs to improve and reopen the rail passenger station at East Third St. and Main St. (US Rt. 60) in Dunkirk, NY at $ 1,200,000. Previously, agreements with AMTRAK and CSX were in place, but were not initiated by subsequent administrations. Amtrak's Lake Shore Limited passes through Dunkirk daily at approximately 8:08 AM eastbound and 1:00 AM westbound. These trains operate daily with coach, sleeping, lounge, meal, and beverage services available directly to 26 cities on this route plus connections. Approximate times at Dunkirk are 8:08 AM eastbound and 1:00 AM westbound. In July 2021 the Lakeshore Rail Alliance came together to advocate for additional service along the "Lakeshore Corridor" between New York City, Boston, and Chicago.
A "Get On A Train Committee" has been organized by the Chautauqua / Cattaraugus Women's Action Group and Empire State Passengers Association, with Chautauqua Coordinator Roy Davis taking the lead on the proposal for ESPA. The next step should be a New Feasibility Study for improvements and reopening the rail passenger station at Dunkirk or building a new greenfield station at another nearby location. The combination of federal regulations and requirements by the host freight railroad (CSX) could very well require a new site to accommodate a station with high level platforms located off the mainline tracks on dedicated platform tracks, as seen at the new Rochester Station. Amtrak in its 2021 'Amtrak Connects US' report had on its map Westfield, NY – a village nineteen miles south of Dunkirk – as a possible site of a new station. Perhaps both could be done, or perhaps a new "Chautauqua County Regional Intermodal Rail Station" located in the vicinity of Dunkirk and Fredonia – with a large park n' ride lot, intercity coach service, and local bus connections to other communities, including the City of Jamestown – could be the solution.
BELOW: Possible greenfield station site south of Dunkirk (4.6 mi) and west of Fredonia (2.0 mi) on a straight section of the CSX mainline.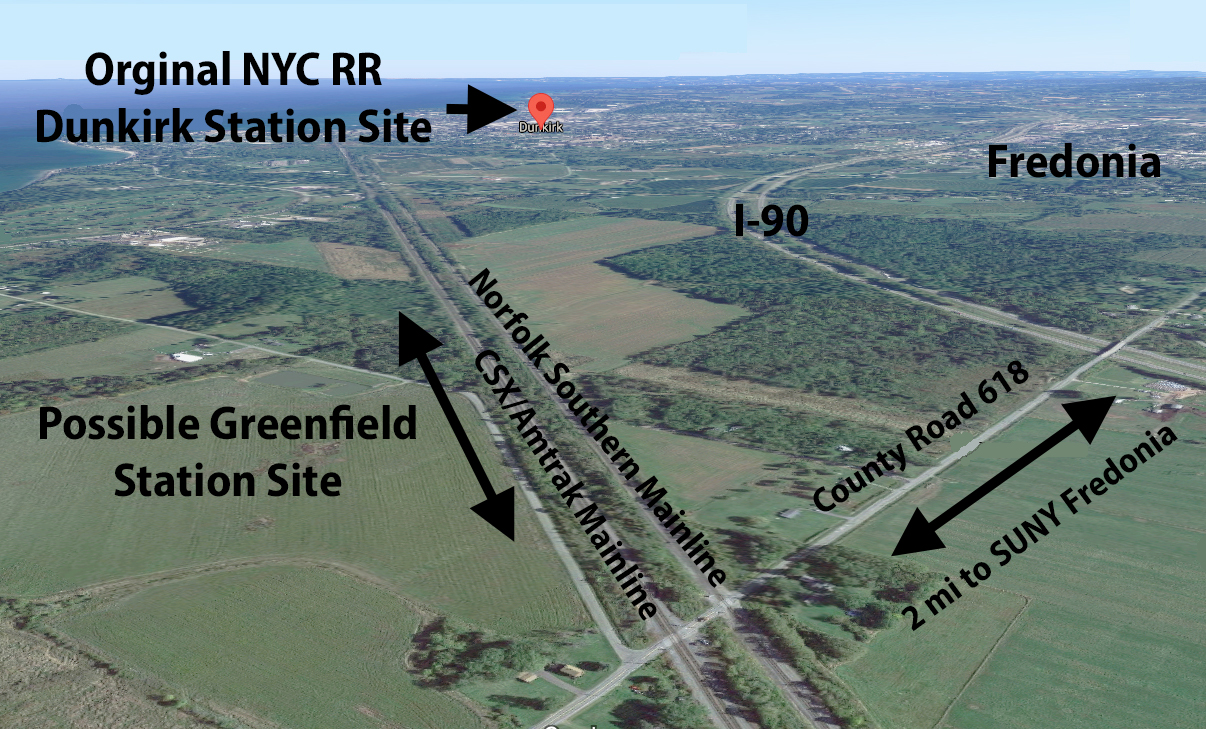 ABOVE: An architectural rendering of proposed new downtown intermodal rail station in Amsterdam (Image City of Amsterdam)
Amsterdam
In May 2018 the City of Amsterdam released the results of a feasibility study it funded of consolidating the various highway bypasses and onramps downtown to free up land that could be used to build railroad passenger platforms and a mixed-use multimodal station building — which would include retail space, coffee shop, a newsstand and a Taste of New York location. The station would be adjacent to the recently opened Mohawk Valley Gateway Overlook Pedestrian Bridge that connects downtown with the southside of the city across the Mohawk River. The new intermodal station would replace the current small unstaffed Amtrak station on the city's westside, a small one-story brick building containing a small, air-conditioned waiting room and restrooms.
Costs associated with the estimated $34 million station project include: $1 million for property acquisition, $5 million for the removal of the eastbound section of Route 5 and road improvements, $20 million for multimodal center and platforms, and $8 million for design and contingency expenses. Cost estimates do not include demolition of the Riverfront Center. The next step is to finalize plans for the multimodal center to allow for applying for state and federal grants to fund the project. The long delay in the release of the final Empire Corridor High Speed Rail EIS study could be seen as an obstacle, as how can you build a new station before knowing what the future track configuration will be? However, the new station design could be future proofed by being built with a off the mainline island platform, that in a future phase two would see its platform tracks incorporated into the through passenger-dedicated mainline tracks included in ALTs 90A, 90B, and 110.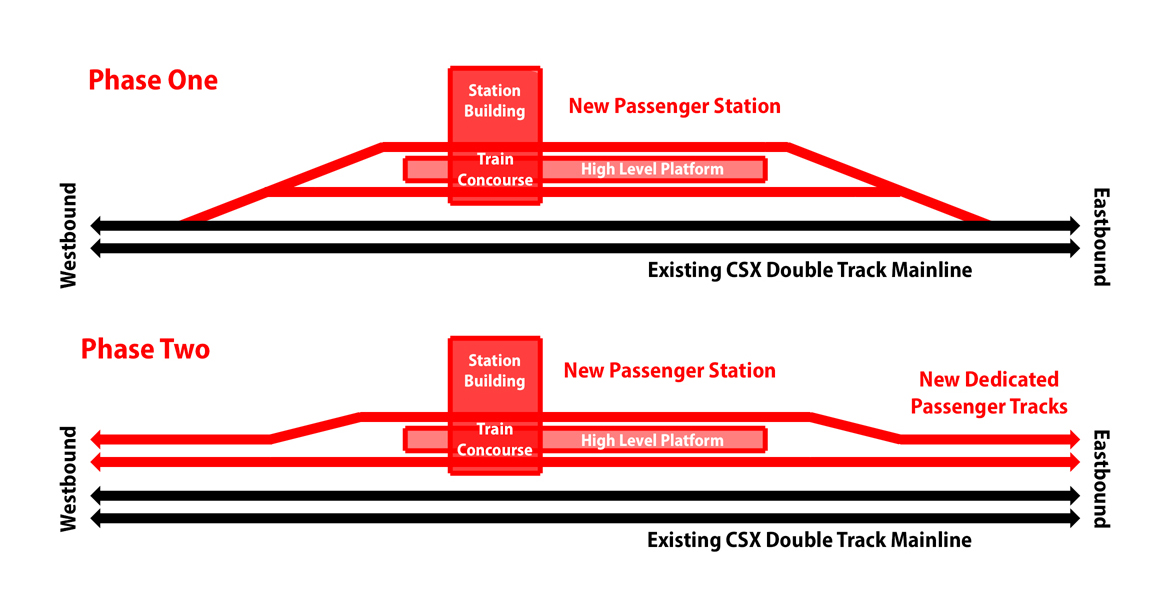 Albany-Colonie
The 2006 NYS Senate HSR Report recommended a "Albany-Colonie" new station be built on the west side of Albany. An excellent location is now available, the former National Lead munitions factory site owned by the U.S. Department of Energy Office of Legacy Management. The large 11-acre triangular parcel is adjacent to Central Ave to the north and the Amtrak mainline to the south, with Railroad Ave dead ending on its western side. The brown field site as undergone a federal cleanup is now ready for reuse according to the Department of Energy.
An intermodal station here would be advantageous in several ways. It would have excellent highway access to both the I-87 Northway and NYS Thruway. The site has direct access to Central Ave via an entrance at the Osborn Ave intersection. Railroad Ave could be brought across the site to the Osborn Ave intersection, while providing a connection to I-90 Exit 2, a mile away on Fuller Road and Washington Ave. A station here could also be directly served by the CDTA's BusPlus Red Line and Central Ave bus routes. A transit shuttle bus could also connect to the SUNY Polytechnic Institute, SUNY Albany, and Harriman Office campuses on Washington Ave.
A large parking lot would accommodate park-n'-ride passengers from across the Capitol District. If plans to take down the I-787 along the waterfront go forth, then an Albany-Colonie Station would provide an alternative to suburban residents who must currently drive to the Rensselaer Station. It also could provide good access to intercity buses operated by Greyhound and Trailways, should the bus terminal be moved from the current downtown terminal, freeing up that site for redevelopment.
The location works well for rail operations because it's at the point where Amtrak trains transition between the 110-mph territory west the Schenectady and the slower speed section from the Rensselaer Station over the LAB Bridge, up the West Albany Hill, and pass the West Albany Yard. A station stop here would add a few minutes to travel times, but less so when the train must come to a stop from a high speed. In addition, not every train needs to stop – the Lake Shore Limited for example – for this station to be well patronized. While a new station today is not needed with the current service level, if plans for faster and more frequent "high speed rail" service come to fruition within the next decade, then another Capital District station would be desirable to divide the increase ridership.
All together a sleek modern "Albany-Colonie Rail Station" could become an architectural symbol of Tech Valley. Given its history of uranium dust, there are not likely to be many eager private developers. An Albany-Colonie Station – built on free public land – is an idea worth a look at by the City of Albany, Town of Colonie, and the Capital District Transportation Committee.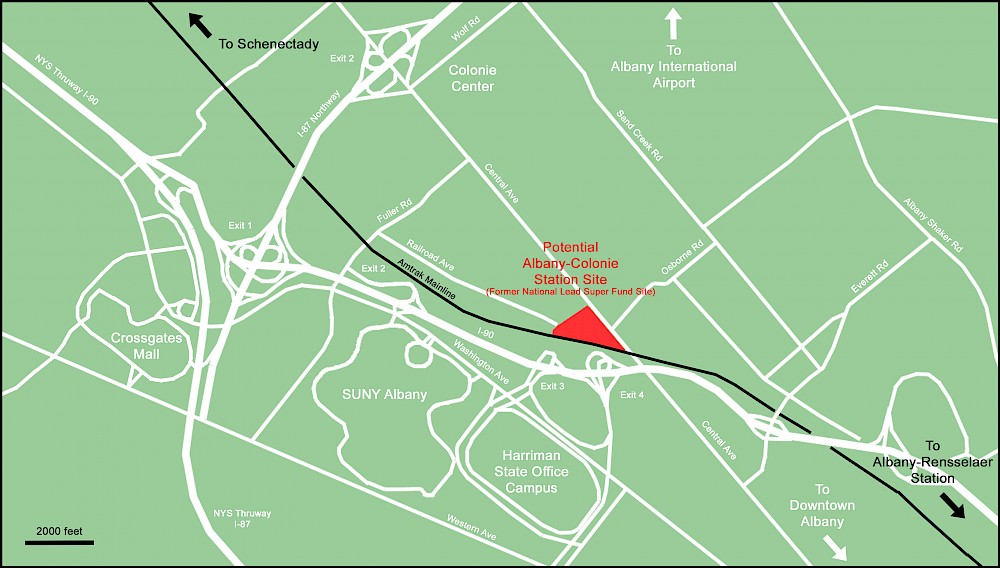 Other Station Projects
Other station projects include repairing/replacing the existing high-level platform at Syracuse which suffers from a poor foundation. This is a project that could include adding a second platform track as now exists at Rochester. The existing Buffalo-Depew Station could be rebuilt and expanded, along the lines of the new station at Rochester, with a new front building, high-level island platform, and expanded parking. The two existing low-level platforms at Utica Union Station could be rebuilt or replaced with a new configuration compatible with future high-speed rail service. At the Albany-Rensselaer Rail Station the empty land and surface parking lots surrounding the station could be commercially developed – for example, an onsite hotel – generating a steady annual stream of revenue to the local government in the form of sales tax and the CDTA in lease payments. In the distant future should a high-speed service with a high train frequency be established across the state, new stations to be served by a "regional service" should be considered for Palatine Bridge/Fort Plain, Little Falls/Herkimer, Oneida, Lyons/Newark, and Batavia.
---
Buffalo Metro Rail Expansion Project
ESPA is very much in support of the proposed expansion of the Buffalo Metro Rail northward from its current terminus at the South Campus of the University at Buffalo (UB) to the UB North Campus. The existing 6½ mile long downtown-to-city line which opened in 1986. The Niagara Frontier Transit Authority (NFTA) is close to completing the final environmental impact study (EIS) with release in Summer 2020. The next planning step is conceptual engineering and cost estimates of the right-of-way, station site plans, utilities relocation, and traffic studies can then begin.
The current plans have the Metro Rail rising out of its subway tunnel at the South Campus to run up at street level along the center of Niagara Falls Blvd. with stations at Sheridan Drive and the Boulevard Mall. The line would then travel along Maple Ave and Sweet Home Road to the North Campus where there would be several stations, before terminating at the I-990.
The NFTA is partnering with the Greater Buffalo Niagara Regional Transportation Council to work with local municipalities in undertaking urban planning work geared toward maximizing private economic development opportunities of "transit-oriented-development" around the proposed new Metro Rail stations. This includes plans to redevelop the current Metro Rail (former Lackawanna trainshed) maintenance facility at the foot of Main Street in Buffalo's downtown "Canalside" district into a mix-use development.
The Expansion of the Metro Rail would connect several major centers of business and academic activity including all the North and South campuses of UB, the Buffalo Niagara Medical Campus, Downtown Buffalo, and the Canalside waterfront entertainment district. The now under construction Buffalo-Exchange Street Amtrak station will include an attractive well-lit walkway connection the Metro Rail with the rail station, two blocks away. For more please visit the Metro Rail Expansion Project Website.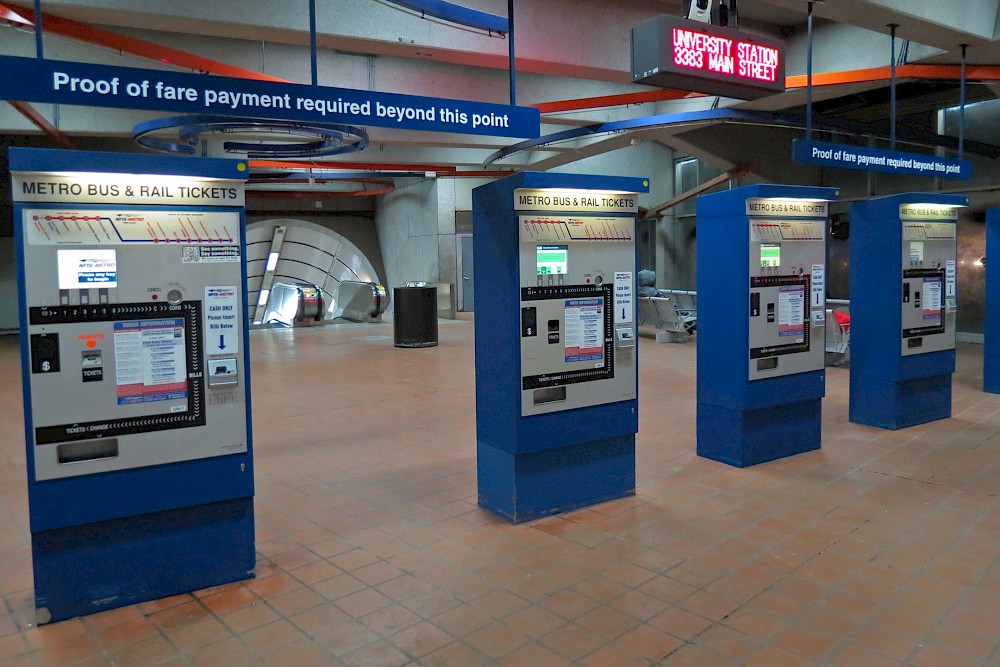 The Metro Rail's University Station at the UB South Campus, current northern end of the rail transit line.
---