Rail Project Proposals
Proposals for Service Improvements and Expansions
---

Over the last two decades there has been little or no change in Amtrak on-board passenger service in the state. In fact, there have been reductions to onboard service, specifically when café food service on many NYC-Albany 'Empire Service' trains was eliminated in 2005 by Amtrak. This cut included the closure of the Amtrak commissary at the Rensselaer station, resulting in operating café cars not being properly stock. As a result, trains frequently run out of food and drink on their return trips from Western NY and Canada to New York City, where they are stocked at the Amtrak commissary in Sunnyside Yard, Queens.
ESPA supports restoring café car service on all trains in New York State and the re-opening of the commissary base in Rensselaer. These issues have a budgetary aspect because they could increase the subsidy paid by New York State taxpayers to Amtrak under PRIIA Section 209. However, reforms enacted since 2005 by Amtrak to its food and beverage service as resulted in reduce losses, with Café Car revenue on the Northeast Corridor now exceeding its costs.
As a result we at ESPA beleive that restoration of full food service will greatly enhance onboard service, support the goal of selling more 'Taste NY' food and bervages currently stocked in Empire Corridor cafe cars, while being largly cost neutral to the state goverment. You can help by contacting your local state representatives and the governor's office on this issue of reopening the Albany-Rensselaer commissary and restoring café service to all Empire service trains. By making you voiced heard you will push this issue up in priorities of our state government. Also Give Expanded Food Service Your "Like" on Facebook: Hudson Valley Food Service on Amtrak
---
ESPA proposes the addition of a baggage car one of the state's supported corridor trains, the NYC-Niagara Falls Maple Leaf. A baggage car on the Maple Leaf would permit checked baggage at stations that now provide baggage service to the Lake Shore Limited, as well as the new stations at Buffalo Exchange Street and Niagara Falls. Having a baggage car on the popular Maple Leaf would remove excess luggage from often crowded coach cars, were it can block aisleways, impeding mobility of passengers. Of equal importance is the ability to store bicycles and other sporting equipment in the baggage car, thus opening the opportunity for downstate residents for example to bring bicycles to tour the Erie Canal Trailway or bring hockey equipment to the tournaments Upstate. Amtrak has completed the acceptance of an order of new Viewliner baggage cars – built by CAF USA in Elmira Heights NY – so the equipment is available.
Other states have successfully worked with Amtrak to increase bicycle capacity on trains to promote tourism travel. The State of Pennsylvania recently added a baggage car to the NYC-Philadelphia-Pittsburgh Pennsylvanian at an estimated cost of $300,000 annually. However, Amtrak provides a discount to Pennsylvania because their baggage car provides a through service connection with an Amtrak long-distant train, the Capitol Limited. Thus, the cost would be higher for New York State. In addition to the Maple Leaf the Adirondack would benefit from a baggage car, however this is more difficult because there are no stations providing service north of Schenectady to Montreal, only Saratoga Springs is staffed by Amtrak, and then there is the complication of customs and border inspection.

RIGHT: Amtrak new Viewliner baggage car on factory floor. LEFT: Bikes being unloaded at Saratoga Springs
---
Another short-term improvement to onboard service we at ESPA advocate for is that Amtrak base a team of cleaners at Albany-Rensselaer who would board Empire Corridor trains at the station and clean them enroute. These cleaners could detrain at Utica, catching a return train east that they would also clean. Due to the length of train trips in both time and distance from Penn Station to Niagara Falls, restrooms can become… unpleasant; while garbage bins can overrun. Having them refreshed midway through journeys would be a small but meaningful way to improve onboard service, making rail a more attractive alternative to driving or flying.
---
Preclearance at Montreal
The Canadian Parliament recently ratified a treaty with the USA allowing for joint US-Can customs to be done at Montreal Central Station for Amtrak's NYC-Montreal Adirondack, eliminating the need for the current length border stop. Customs pre-clearance will require building a dedicated facility within the existing Montreal station for the Adirondack, and a future extension of the Vermonter. This is a project that Amtrak and other parties have been working on for many years. New York State Department of Transportation (NYSDOT) should follow up ad work with the stakeholders – Amtrak, VIA Rail (owners of Central Station), Vermont, and Quebec – to see this worthy project proceed forward to completion.
---
Adding Seats
There is a significant lack of seats for Empire Corridor trains at peak travel times in the Empire Corridor at peak travel times. The easiest and cheapest way to fix this is to add coaches to existing trains. Currently many trains sell out, especially south of Albany and on holidays. High demand south of Albany makes hard to find seats for travel north and west of Albany. In the short term NYSDOT should negotiate with Amtrak an increase in the current pool of coaches dedicated to the Empire Corridor, to increase train lengths. Long term NYSDOT should work to replace and expand the coach fleet for the Empire Corridor as Amtrak moves forward to replace its current 40-year old Amfleet fleet coaches with new "single-level corridor" equipment. Increase ridership would improve cost-recovery and provide an environmentally friendly alternative to driving and flying.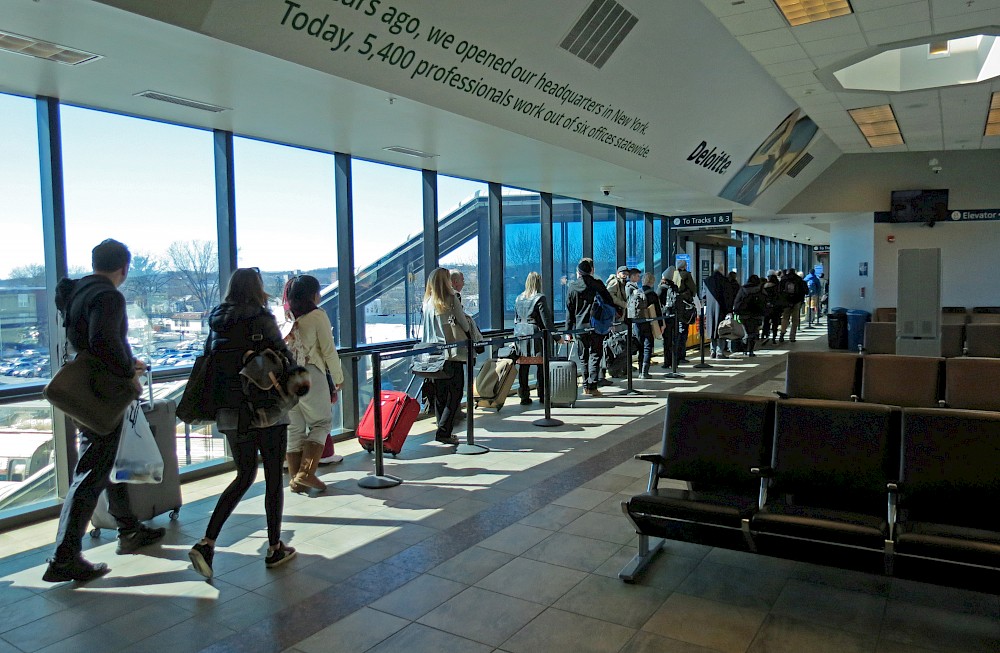 Passengers waiting to board an Amtrak train at the Albany-Rensselaer Rail Station
---
Travel Packages
NYSDOT and I Love NY should negotiate with Amtrak to allow more promotional fares and travel packages in New York State. Amtrak offers promotional fare codes within its reservation system allowing vacation travel providers to offer discounted tickets and travel packages at off-peak travel times. Maine has acquired this to boost travel on its state-supported Boston-Portland Downeaster corridor service. Establishing an Amtrak Promo "V-Code" for the Empire Corridor would allow discount travel packages for Upstate destinations overlooked by Amtrak Vacation Packages but served by Amtrak, just as in Maine today.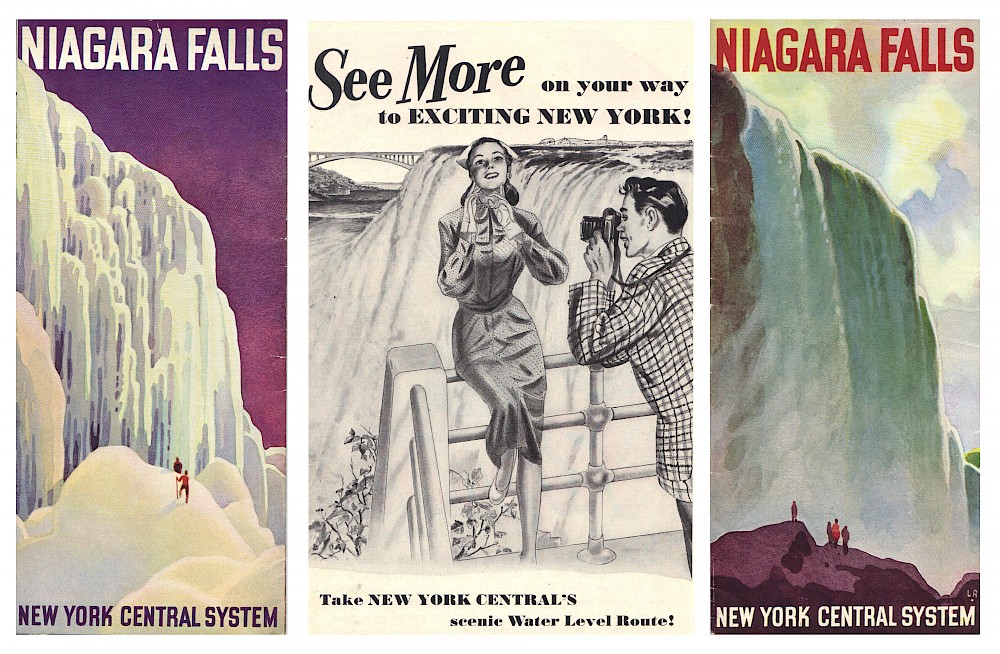 New York Central era print ads of Niagara Falls, a tourist attraction heavuly promoted by the railroad.
---

ABOVE: Rendering of the Replacement Span for the Livingston Ave Bridge, released by NYSDOT in 2022
---
UPDATE 2022 SPRING
NYSDOT Moving Forward on LAB Replacement
---
---
Livingston Avenue Bridge Replacement
(Orginal Text 2020)
A major capital investment that needs to begin soon is the replacement of the Livingston Avenue Bridge (LAB bridge) over the Hudson River between Albany and Rensselaer. The Livingston Avenue Bridge, its stone piers dating to just after the Civil War, is at or beyond its useful life, needing replacement to insure continued Amtrak service west and north of Rensselaer. A replacement bridge would improve rail safety, reduce travel times slightly (current bridge has 15-mph speed limit), and create an opportunity to provide pedestrian and bicycle access across the Hudson (with necessary safety barriers/enclosures to separate bicycles from trains). Again, federal matching funds are available for this State of Good Repair and safety project. The State has already invested $2 million in preliminary design and now is the time to begin the final replacement design and develop a timeline for the construction project.

The Livingston Ave Bridge from the north, with Albany on the right and the Amtrak Rensselaer Maintenance Facility to the left.
---

New Motive Power & Trainsets for Amtrak & Metro-North
---
Amtrak is contracting with California-based Siemens Mobility Inc.to manufacture a new fleet of up to 83 multi-powered modern trains that will be leveraged for state and northeast services, with further options for up to 130 additional trains to support Amtrak growth plans. The new fleet will offer modern rail amenities that better serve Amtrak customers. "These new trains will reshape the future of rail travel by replacing our aging 40-to-50-year old fleet with state-of-the-art, American-made equipment," said Amtrak CEO Bill Flynn. "This investment is essential to preserving and growing our Northeast Regional and state-supported services and will allow our customers to travel comfortably and safely, while deeply reducing criteria pollutants."
The new equipment will operate on the Northeast Corridor, long distance Palmetto and various state-supported routes that will replace Amtrak-owned Amfleet, Metroliner, and state-owned equipment on certain routes throughout the country. In addition to the Northeast Regional, other routes will include the Adirondack, Carolinian, Cascades, Downeaster, Empire Service, Ethan Allen Express, Keystone Service, Maple Leaf, New Haven/Springfield Service (Amtrak Hartford Line and Valley Flyer), Pennsylvanian, Vermonter and Virginia Services. The $7.3 billion investment includes the purchase of equipment and a long-term parts supply and service agreement, facility modifications and upgrades, and other program expenses.
Using multi-power systems, including hybrid battery operation for a portion of the fleet used for New York's Empire Service, these trains will also provide a substantial environmental benefit through reduced criteria pollutants compared to the existing fleet. "These new trains, some of which will be our first hybrid battery operations in the United States, will transform the way Americans travel. Offering a more sustainable and comfortable travel experience, they will be built for excellence and built with pride in Sacramento, California," stated Michael Cahill, President of Siemens Mobility, Rolling Stock in North America. "Over the past decade, we've worked closely with Amtrak and its state partners to develop and deliver trains that meet the needs of America's travelers, these next generation trainsets build on that experience and offer much more."
"New York State congratulates Amtrak Chair Anthony Coscia and CEO William Flynn on their sustained commitment to service innovation and eco-friendly travel," said New York State Department of Transportation Commissioner Marie Therese Dominguez. "Today's historic trainset award will serve to accelerate the replacement of the nearly 50-year-old Amfleet cars currently in operation and serve to complement New York's unprecedented investments in new passenger stations, service reliability, and safety. The 17 new trainsets being dedicated to New York State-supported routes will significantly enhance the passenger experience and incorporate cleaner fuel technologies, in support of New York's nation-leading climate laws. The State is committed to working with Amtrak and the State's Congressional Delegation to secure the federal funding necessary for the manufacture of these new trainsets."

---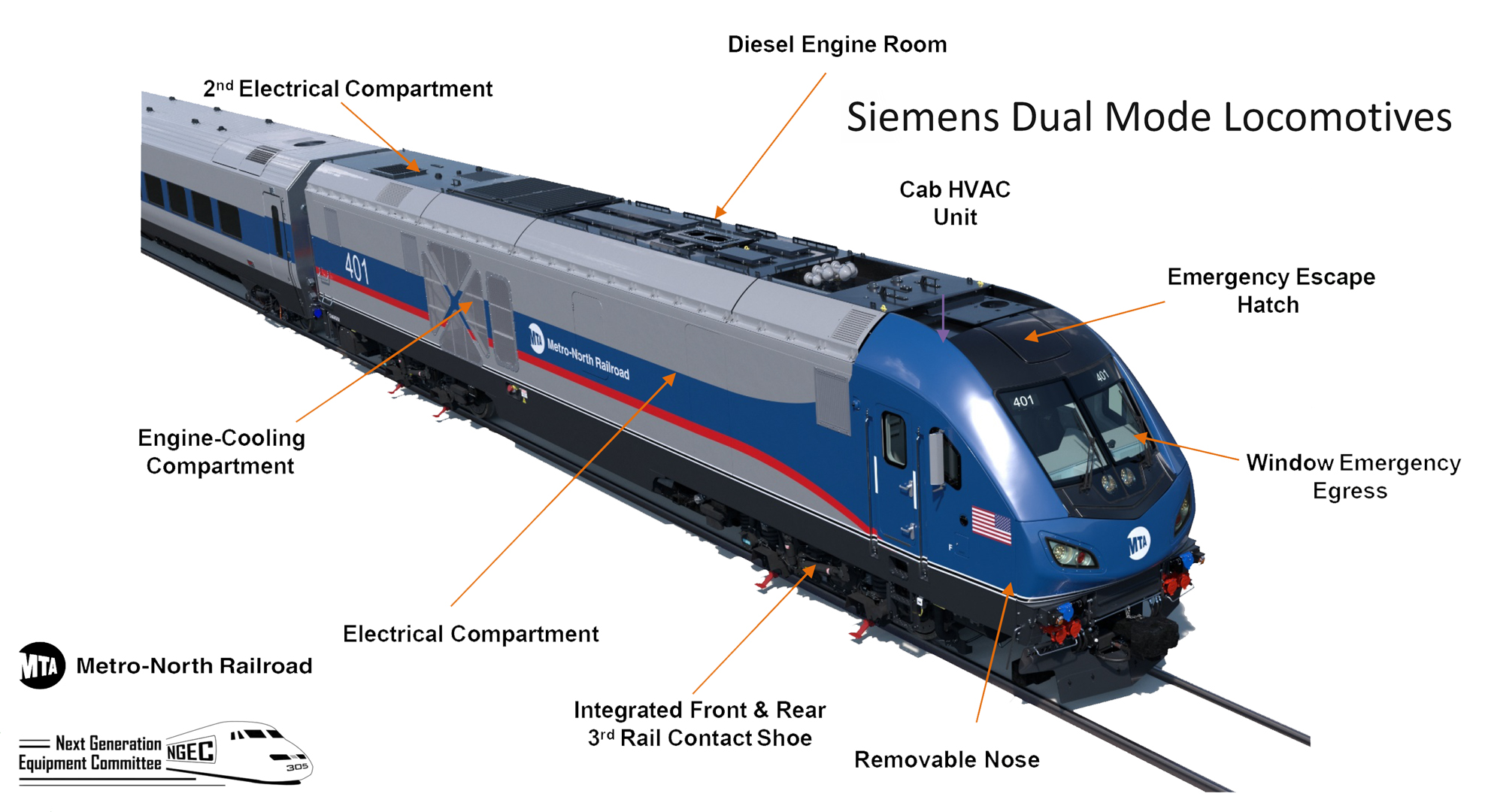 ---
Orginal Text Before Amtrak Trainset Order in July 2021
Empire Corridor trains today [as of 2020] are primarily hauled by a fleet of Amtrak owned dual-mode diesel-electric locomotives whose electric Third Rail DC capability enables trains from Upstate NY to enter the non-diesel electric territory of Penn Station and the East River tunnels to Amtrak's Sunnyside Yard in Queens. Acquired by Amtrak from Genarl Electric in the 1990s, the current fleet of 18 P32AC-DM Genesis locomotives are after very intense utilization surpassing their 20-year service lives – they're old, tired, and occasionally catch on fire – are in need of replacement sooner than later.
The average failure rate in service for the dual-mode locomotive fleet is increasing, leading to more frustrating delays for passengers. ESPA has long believed that a dual-mode locomotive replacement order by Amtrak and New York State (NYSDOT) should be combined with an order from Metro-North, which needs to replace its own fleet of P32AC-DMs that operate to Poughkeepsie. A joint Amtrak-Metro-North order could save New York taxpayers money and speed delivery to Amtrak of the much need new motive power.
In December of 2020 the MTA Board approved awarded a $335 million contract to Siemens Mobility for the design and manufacture of 27 new dual mode locomotives, the first in a new line of engines on a contract that includes options for up to 144 additional locomotives. Much like the P32AC-DM was a direct successor of the P40DC/P42DC locomotives mass produced for Amtrak's use nationwide, Metro-North's new dual mode (if awarded) would also be a direct successor to the ongoing Siemens Charger program, which has been in production since 2016.
As part of the RFP process, Siemens did not bid the base specifications, but instead provided an alternative design based on Siemens' standard Charger locomotive platform already in operation, customized to meet Metro-North's crucial technical requirements. Metro-North spent 18 months negotiating with Siemens and reviewing the alternative design to come up with the ultimate specifications and the contract terms for the order. Included in the original phase 1 RFP were several design options that could be included as part of the final contract, including:
A diesel and DC third rail dual mode with a top speed of 110 mi/hr or 125 mi/hr (instead of 90 mi/hr)
A diesel and AC overhead wire locomotive with a top speed of 110 mi/hr or 125 mi/hr (similar to NJTransit's ALP-45DP locomotives)
A DC third rail and AC overhead wire motor (no diesel) that can run on 25 c/s 12.5 kV, 60 c/s 12.5 kV, and 60 c/s 25kV overhead wire
The staff summary again does not detail the specifics of what the options would be, only that the locomotives for the LIRR, ConnDOT, and NYS DOT would be "in an alternate configuration". The alterations for LIRR could be as simple as installing different cab signaling equipment or something more substantial. NYS DOT will likely take advantage of the first design option for a higher-speed locomotive, as the upper portions of the Empire Corridor to Albany can currently support train speeds of up to 110 mph. The other two options are unlikely to be used in this contract but could lead to future orders for Siemens. The diesel/AC overhead wire design option was likely included as a placeholder or feeler for Amtrak in case they wanted to convert off-corridor NEC trains to all dual mode.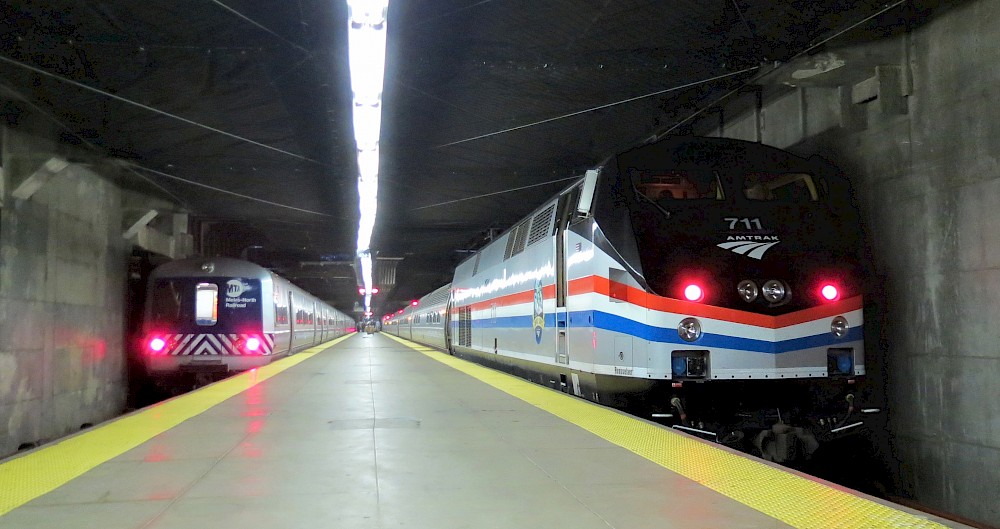 Dual-mode locomotives allow Amtrak trains to run under third-rail electric power into Penn Station and Grand Central.
Another alterative is possible, if now not the probable solution for replacing the existing Amtrak fleet of dual-modes for the Empire Corridor. In January 2020 Amtrak released its 'Equipment Asset Line Plan', a report on renewing its equipment fleet of locomotives and coaches. It makes for informative and thought-provoking reading, particularly concerning the future of the Empire Corridor. A primary focus of the fleet renewal plan is on replacing the existing Amfleet coaches from the 1970s – which given the recent purchase of Siemens ACS-64 Cities Sprinter electric locomotives for hauling trains on the Northeast Corridor – will most certainly be for unpowered "integrated fixed consist" trainsets, made up of permanently-coupled "trailer" coaches that will undergo maintenance as a unit, like a jet aircraft. This is commonly how passenger rolingstock is done in Europe and East Asia, intergated trainsets instead of individual coaches that are coupled and uncoupled to create complete trains, with train consists being altered depending on demand and the maintenance needs of each indivual car.
In this reprt Amtrak expressed an interest in acquiring dual-mode trainsets that would eliminate engine changes – that add 15 to 30 minutes to schedules – for Northeast Corridor trains that continue beyond Amtrak's electrified tracks to non-electric diesel territory in Virginia, Pennsylvania, and New England. Furthermore, Amtrak stated a desire for these dual-mode trainsets to have an "tri-mode" capability – the ability to run off diesel power, overhead AC catenary, and DC third rail – for service on the Empire Corridor. Such a future tri-mode trainset fleet for the Empire Corridor would be "future-proofing" by providing maximum flexibility for future infrastructure investment in the Empire Corridor. This includes: through running of Empire Corridor trains to the Northeast Corridor; new Amtrak service to Grand Central; and incremental or partial modern AC overhead electrication (like on the Northeast Corridor) north of the current legacy DC third rail territory at Croton-Harmon to Albany and beyond.
Either way – ordering new dual-modes with Metro-North or an alternative dual-mode design for the Northeast Corridor – the existing Amfleet coach (cars dating to the 1970-80s) pool of approximately 62 cars allocated to the Empire Corridor needs to be replaced as well. Amtrak will soon issue an RFP for replacement single-level corridor equipment for its Northeastern services, and under PRIIA Section 209, New York State will be responsible for a large portion of the cost of this new equipment. New York State (NYSDOT) needs to work with Amtrak to ensure that additional equipment for the Empire Corridor will be made available, to increase both train length and train frequency. Given the current number of often sold-out trains (pre-COVID pandemic), particularly NYC-Albany, such an increase in the trainset fleet of locomotives and coaches is warranted.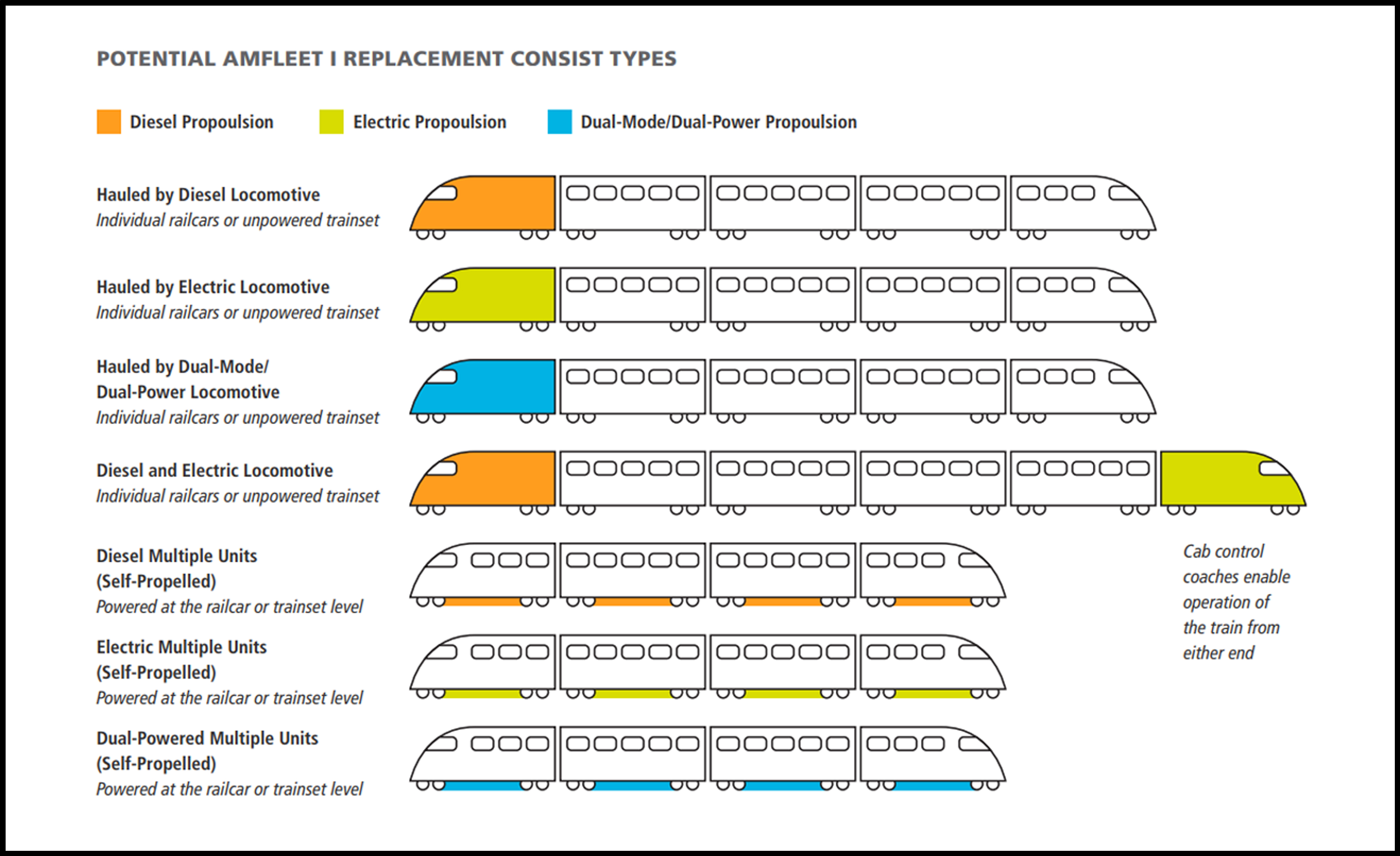 Combinations of motive power and trainset consists under consideration [2020] by Amtrak (Source Amtrak)
UPDATE: As stated at the top of this section, in July 2021 it was annouced that Amtrak had signed a $7.3 billion deal with Seimens Mobility to replace the rolling-stock for its non-Acela and Long Distance services in the Northeast – including new diesel-electric battery dual-mode locomotives for the Empire Corridor – solving the issue of replacing the aging fleet of Amtrak dual-modes currently in service as of this writting in 2021.
---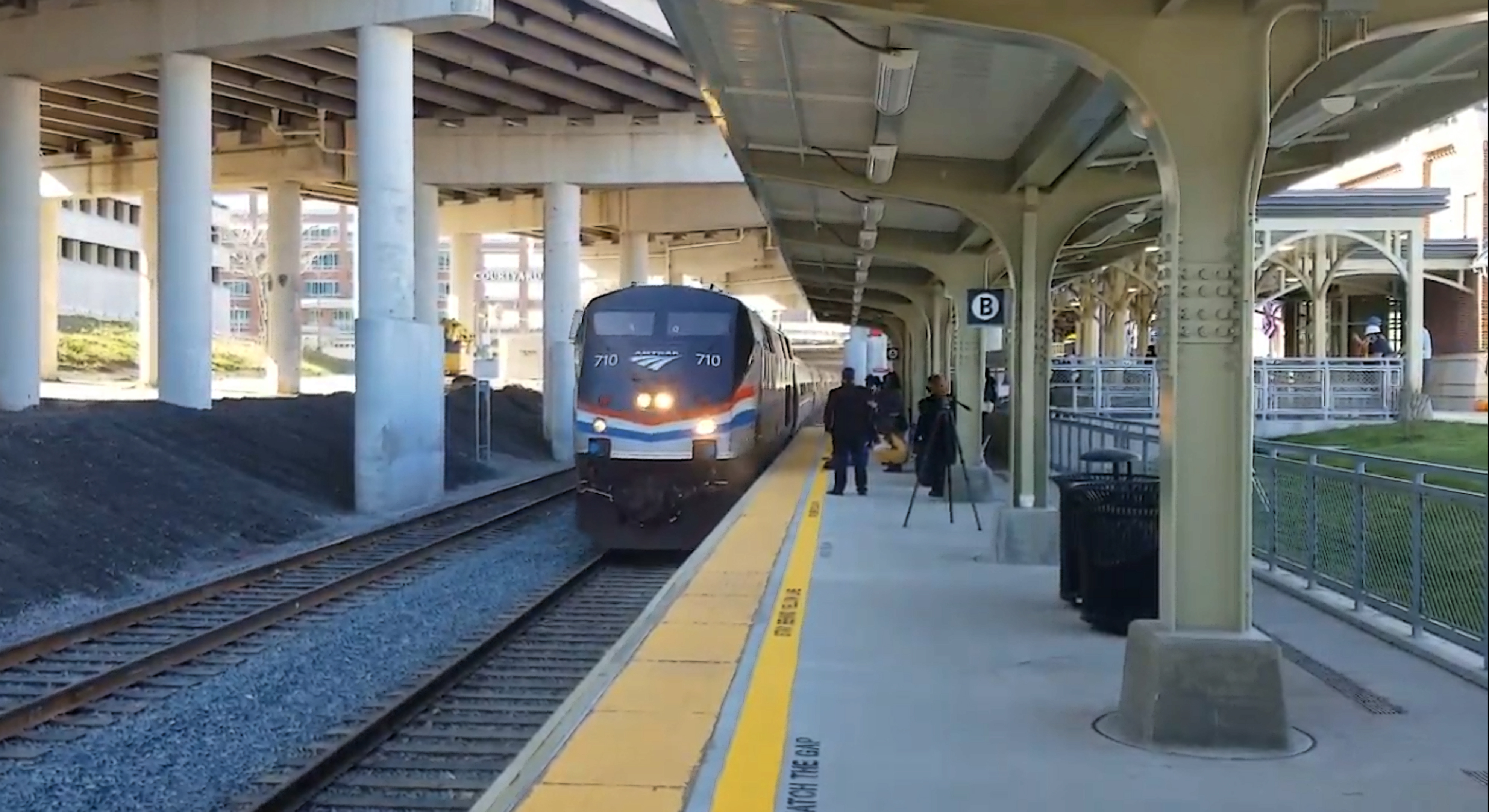 New Rail Stations
Among several medium-term potential capital projects for the Empire Corridor include several proposed station projects, include at Amsterdam, Dunkirk, and Albany-Colonie. New York State as a particularly good record on station renewals, with stations at Niagara Falls, Buffalo-Exchange, Rochester, and Schenectady rebuilt over the past decade.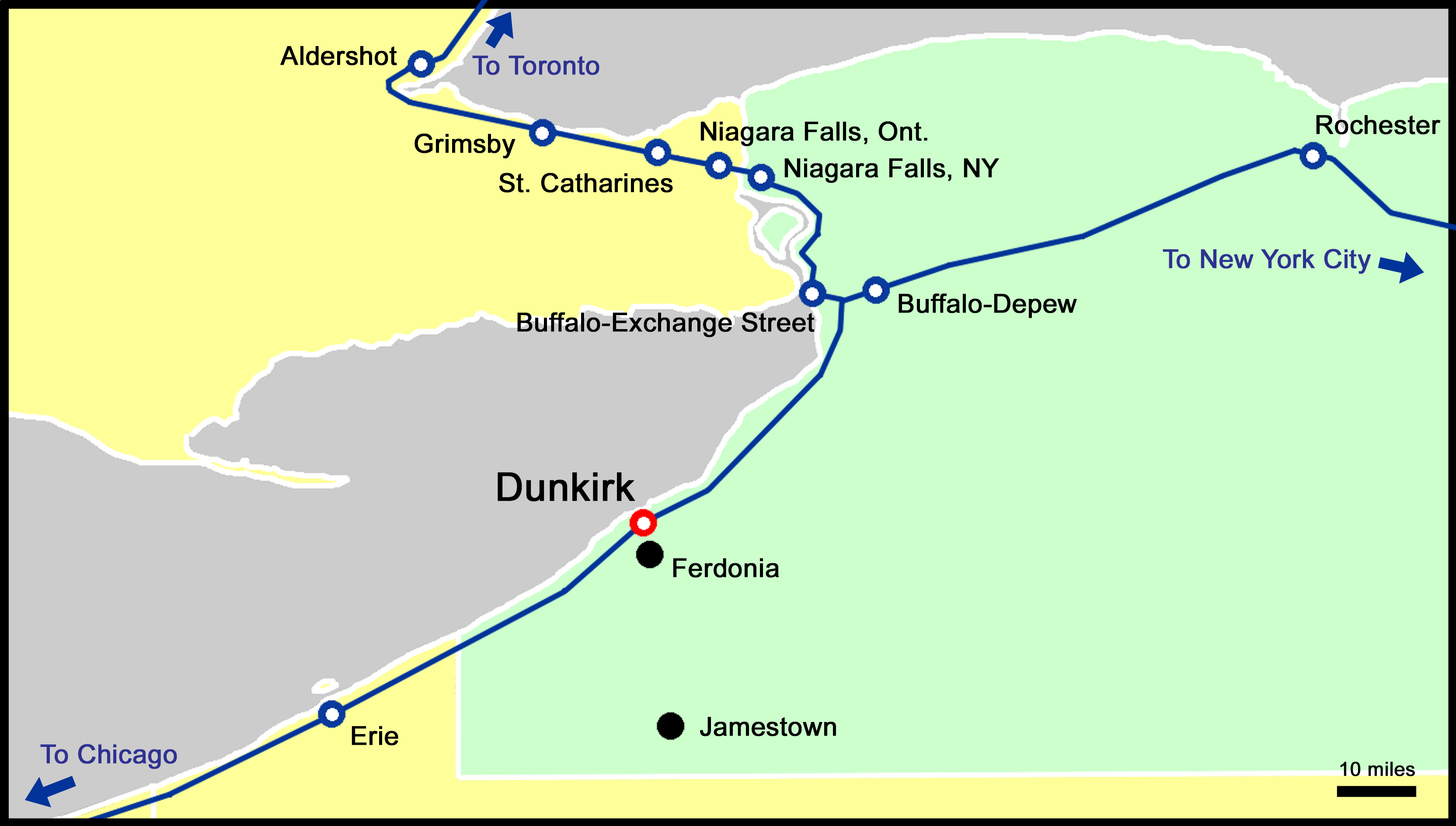 Dunkirk
Dunkirk, the westernmost city of the state in Chautauqua County, is forty miles southwest of Buffalo on the shores of Lake Erie currently has no Amtrak service, but could if the New York-Boston-Chicago Lake Shore Limited that passes through every day made a station stop. Dunkirk has a population of about 12,000 residents, with the State University of Fredonia located only two miles away, Fredonia having a population of about 11,000. Dunkirk was served by several long-distance trains through the New York Central to Penn Central till the start of Amtrak in May 1971, when service west of Buffalo was not included in the intial barebones Amtrak system. Since then there has been interest since in restoring passenger rail service to the city by having the Lake Shore (current service started in 1975) make a stop.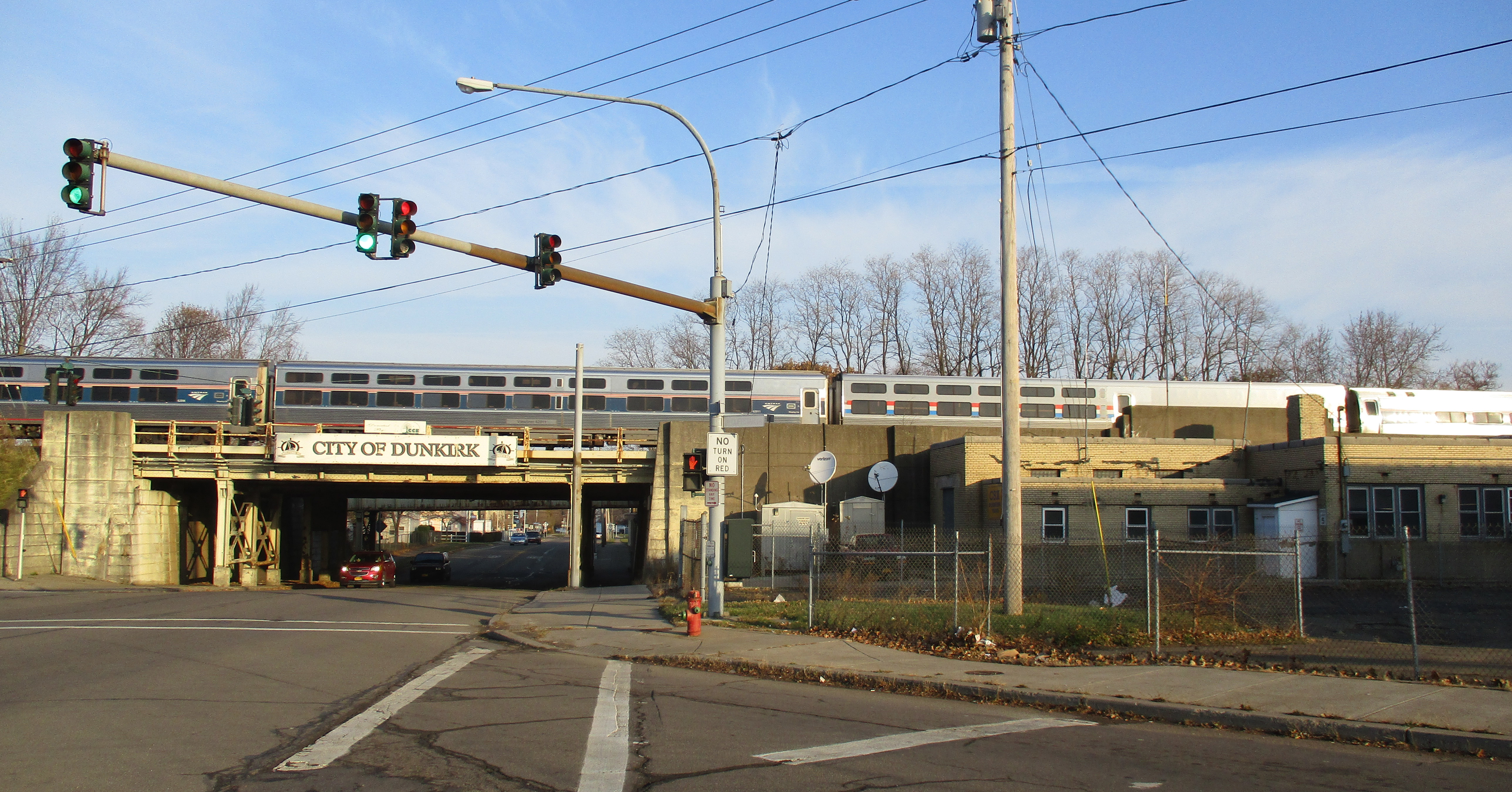 ABOVE: Amtrak's Lake Shore Limited passing the old New York Central Station, over to the right, in Dunkirk, NY. (Photo Roy Davis)
The 2001 Dunkirk Intermodal Facility feasibility study documented the one time total costs to improve and reopen the rail passenger station at East Third St. and Main St. (US Rt. 60) in Dunkirk, NY at $ 1,200,000. Previously,agreements with AMTRAK and CSX were in place, but were not initiated by subsequent administrations. Amtrak's Lake Shore Limited passes through Dunkirk daily at approximately 8:08 AM eastbound and 1:00 AM westbound. These trains operate daily with coach, sleeping, lounge, meal and beverage services available directly to 26 cities on this route plus connections. Approximate times at Dunkirk are 8:08 AM eastbound and 1:00 AM westbound. In July 2021 the Lakeshore Rail Alliance came togther to advocate for additional service along the "Lakeshore Corridor" between New York City, Boston, and Chicago.
A "Get On A Train Committee" has been organized by the Chautauqua / Cattaraugus Women's Action Group and Empire State Passengers Association, with Chautauqua Coordinator Roy Davis taking the lead on the proposal for ESPA. The next step should be a New Feasibility Study for improvements and reopening the rail passenger station at Dunkirk or building a new greenfield station at another nearby location. The combination of federal regulations and requirements by the host freight railroad (CSX) could very well require a new site to accommodate a station with high level platforms located off the mainline tracks on dedicated platform tracks, as seen at the new Rochester Station. Amtrak in its 2021 'Amtrak Connects US' report had on its map Westfield, NY – a village 19 miles south of Dunkirk – as a possible site of a new station. Perhaps both could be done, or perhaps a new "Chautauqua County Regional Intermodal Rail Station" located in the vicinity of Dunkirk and Fredonia – with a large park n' ride lot, intercity coach service, and local bus connections to other communities, including the City of Jamestown – could be the solution.
BELOW: Possible greenfield station site south of Dunkirk (4.6 mi) and west of Fredonia (2.0 mi) on a straight section of the CSX mainline.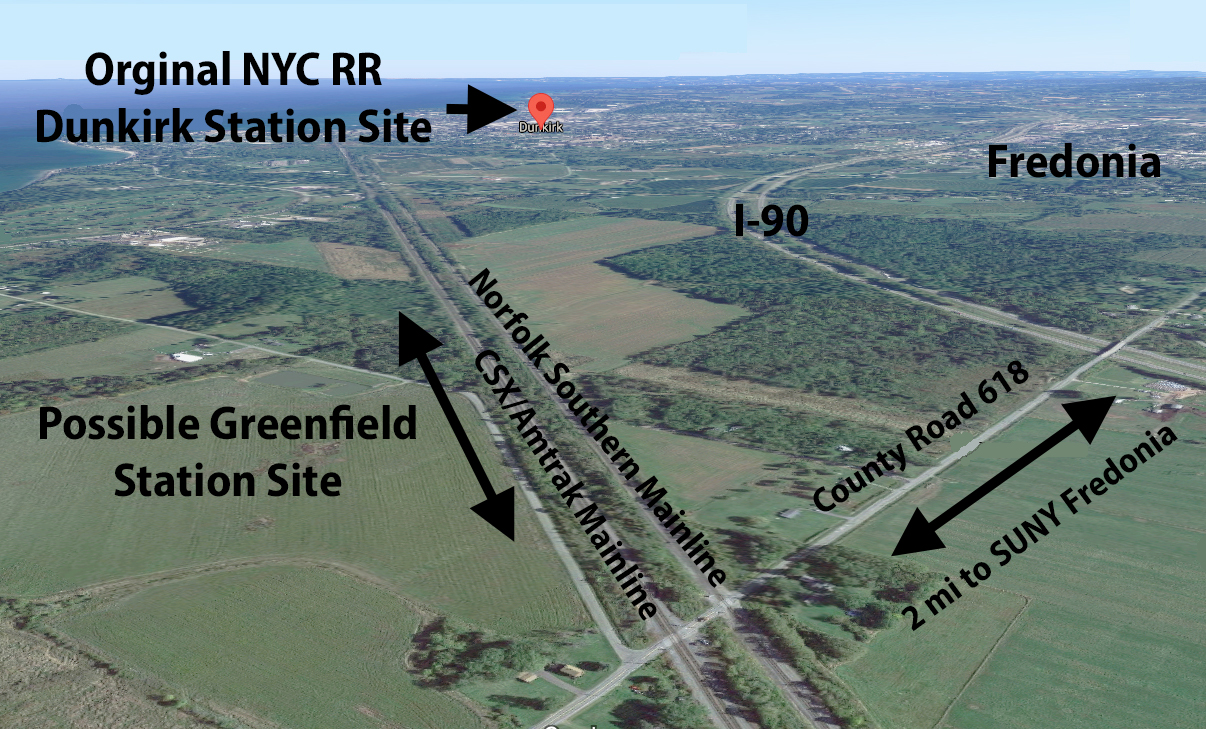 ABOVE: An archtectural rendering of proposed new downtown intermodal rail station in Amsterdam (Image City of Amsterdam)
Amsterdam
In May 2018 the City of Amsterdam released the results of a feasibility study it funded of consolidating the various highway bypasses and onramps downtown to free up land that could be used to build railroad passenger platforms and a mixed-use multimodal station building — which would include retail space, coffee shop, a newsstand and a Taste of New York location. The station would be adjacent to the recently open Mohawk Valley Gateway Overlook Pedestrian Bridge that connects downtown with the southside of the city across the Mohawk River. The new intermodal station would replace the current small unstaffed Amtrak station on the city's westside, a small one story brick building containing a small air-conditioned waiting room and restrooms.
Costs associated with the estimated $34 million station project include: $1 million for property acquisition, $5 million for the removal of the eastbound section of Route 5 and road improvements, $20 million for multimodal center and platforms, and $8 million for design and contingency expenses. Cost estimates do not include demolition of the Riverfront Center. The next step is to finalize plans for the multimodal center to allow for applying for state and federal grants to fund the project. The long delay in the release of the final Empire Corridor High Speed Rail EIS study could be seen as an obstacle, as how can you build a new station before knowing what the future track configuration will be? However the new station design could be future proofed by being built with a off the mainline island platform, that in a future phase two would see its platform tracks incorporated into the through passenger-dedicated mainline tracks included in ALTs 90A, 90B, and 110.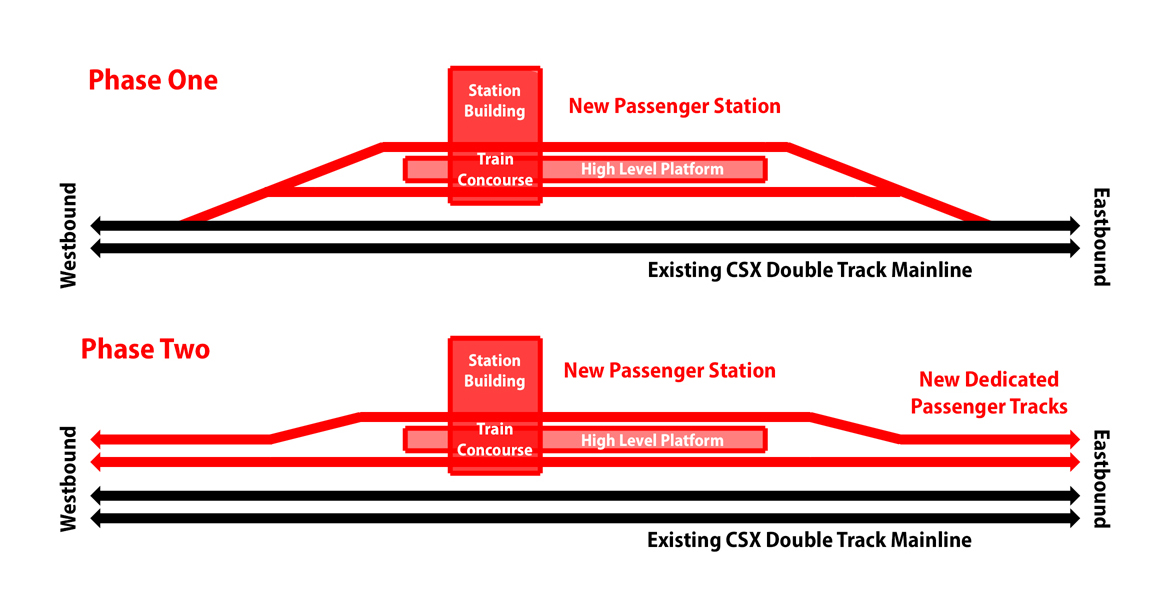 Albany-Colonie
The 2006 NYS Senate HSR Report recommended a "Albany-Colonie" new station be built on the west side of Albany. An excellent location is now available, the former National Lead munitions factory site owned by the U.S. Department of Energy Office of Legacy Management. The large 11-acre triangular parcel is adjacent to Central Ave to the north and the Amtrak mainline to the south, with Railroad Ave dead ending on its western side. The brown field site as undergone a federal cleanup is now ready for reuse according to the Department of Energy.
An intermodal station here would be advantageous in several ways. It would have excellent highway access to both the I-87 Northway and NYS Thruway. The site has direct access to Central Ave via an entrance at the Osborn Ave intersection. Railroad Ave could be brought across the site to the Osborn Ave intersection, while providing a connection to I-90 Exit 2, a mile away on Fuller Road and Washington Ave. A station here could also be directly served by the CDTA's BusPlus Red Line and Central Ave bus routes. A transit shuttle bus could also connect to the SUNY Polytechnic Institute, SUNY Albany, and Harriman Office campuses on Washington Ave.
A large parking lot would accommodate park-n'-ride passengers from across the Capitol District. If plans to take down the I-787 along the waterfront go forth, then an Albany-Colonie Station would provide an alternative to suburban residents who must currently drive to the Rensselaer Station. It also could provide good access to intercity buses operated by Greyhound and Trailways, should the bus terminal be moved from the current downtown terminal, freeing up that site for redevelopment..
The location works well for rail operations because it's at the point where Amtrak trains transition between the 110-mph territory west the Schenectady and the slower speed section from the Rensselaer Station over the LAB Bridge, up the West Albany Hill, and pass the West Albany Yard. A station stop here would add a few minutes to travel times, but less so when the train must stop from a high speed. In addition, not every train need to stop – the Lake Shore Limited for example – for this station to be well patronized. While a new station today is not needed with the current service level, if plans for faster and more frequent "high speed rail" service come to fruition within the next decade, then another Capital District station would be desirable to divide the increase ridership.
All together a sleek modern "Albany-Colonie Rail Station" could become an architectural symbol of Tech Valley. Given its history of uranium dust, there are not likely to be many eager private developers. An Albany-Colonie Station – built on free public land – is an idea worth a look by the City of Albany, Town of Colonie, and the Capital District Transportation Committee.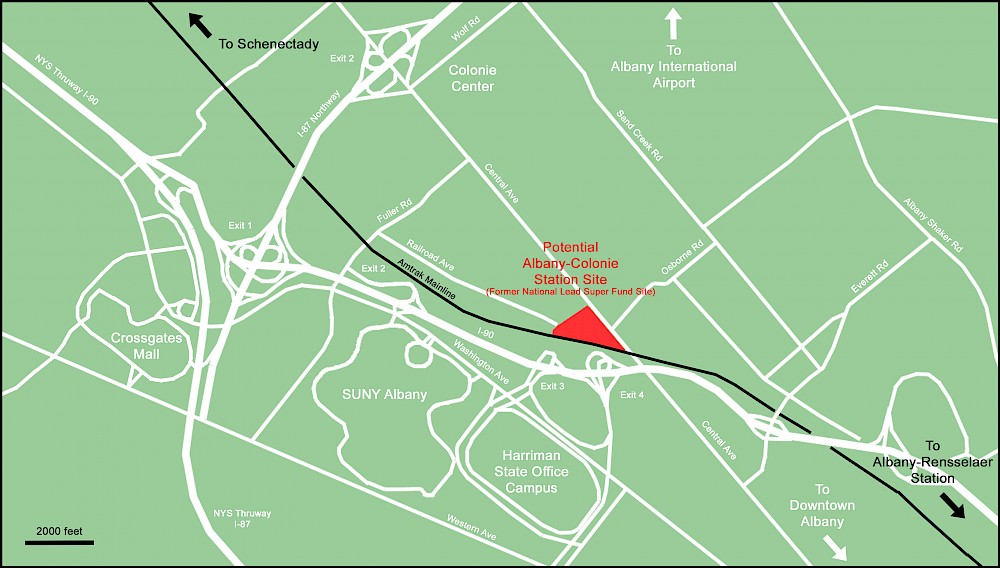 Other Station Projects
Other station projects include repairing/replacing the existing high-level platform at Syracuse which suffers from a poor foundation. This is a project that which could include adding a second platform track as now exists at Rochester. The existing Buffalo-Depew Station could be rebuilt and expanded, along the lines of the new station at Rochester, with a new front building, high-level island platform, and expanded parking. The two existing low-level platforms at Utica Union Station could be rebuilt or replaced with a new configuration compatible with future high-speed rail service. At the Albany-Rensselaer Rail Station the empty land and surface parking lots surrounding the station could be commercially developed – for example an onsite hotel – generating a steady annual stream of revenue to the local government in the form of sales tax and the CDTA in lease payments. In the distant future should a high speed service with a high train frequency be established across the state, new stations to be served by a "regional service" should be considered for Palatine Bridge/Fort Plain, Little Falls/Herkimer, Oneida, Lyons/Newark, and Batavia.
---
Buffalo Metro Rail Expansion Project
ESPA is very much in support of the proposed expansion of the Buffalo Metro Rail northward from its current terminus at the South Campus of the University at Buffalo (UB) to the UB North Campus. The existing 6½ mile long downtown-to-city line which opened in 1986. The Niagara Frontier Transit Authority (NFTA) is close to completing the final environmental impact study (EIS) with release in Summer 2020. The next planning step is conceptual engineering and cost estimates of the right-of-way, station site plans, utilities relocation, and traffic studies can then begin.
The current plans have the Metro Rail rising out of its subway tunnel at the South Campus to run up at street level along the center of Niagara Falls Blvd. with stations at Sheridan Drive and the Boulevard Mall. The line would then travel along Maple Ave and Sweet Home Road to the North Campus were there would be several stations, before terminating at the I-990.
The NFTA is partnering with the Greater Buffalo Niagara Regional Transportation Council to work with local municipalities in undertaking urban planning work geared toward maximizing private economic development opportunities of "transit-oriented-development" around the proposed new Metro Rail stations. There are plans to redevelop the current Metro Rail (former Lackawanna trainshed) maintenance facility at the foot of Main Street in downtown into a mix-use development.
The Expansion of the Metro Rail would connect several major centers of business and academic activity including all the North and South campuses of UB, the Buffalo Niagara Medical Campus, Downtown Buffalo, and the Canalside waterfront entertainment district. The now under construction Buffalo-Exchange Street Amtrak station will include an attractive well-lit walkway connection the Metro Rail with the rail station, two blocks away. For more please visit the Metro Rail Expansion Project Website.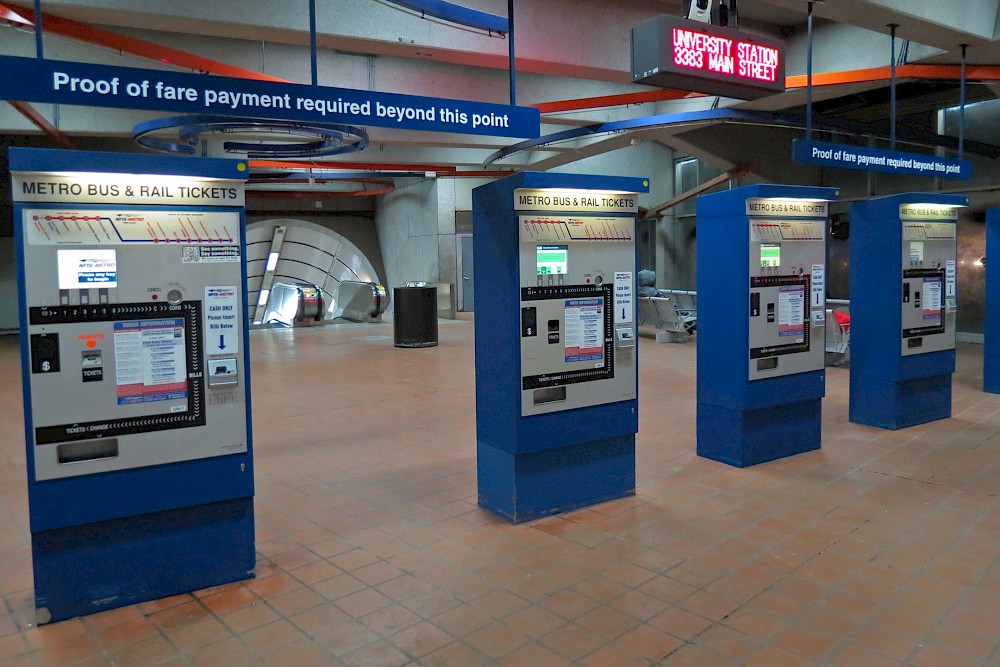 The Metro Rail's University Station at the UB South Campus, current northern end of the rail transit line.
---
Boston-Albany "East-West Rail" Corridor Service
---
*UPDATE May 2022
Gov. Charlie Baker and U.S. Rep. Richard Neal called Tuesday for a Western Massachusetts passenger rail authority that would apply for federal funds and evenly administer expanded east-west commuter rail. "This is an agreement on a path forward here," Baker said. Amtrak, which has been vocal about its plans to expand in the Northeast, would run the trains, Baker said in a news conference with Neal at Springfield Union Station.
Boston Mayor Michelle Wu declared her enthusiastic support for high-speed rail that would connect the state's capital with Western Massachusetts, saying combining housing and job opportunities from the two regions opens possibilities for everyone in the state. Wu visited Western Massachusetts on Sunday where she was named Democrat of the Year by the Longmeadow Democratic Town Committee. During her speech, she talked about the east-west rail proposal, climate change and other topics.
---
Orginal Text from 2020
Imagine being able to take the train to Boston as conveniently as you can now go to New York City on Amtrak. Well it could happen if New York State were to partner with Massachusetts on its ongoing efforts to connect the western half of the Bay State by rail to Boston and New York City. In 2020 MassDOT will release the final version of its East-West Passenger Rail Study. The study is examining the feasibility, costs, and benefits of a corridor service, while also engaging with stakeholders.
The study is not considering service through to the Capital District, and this is unwise. Albany is the logical terminal for a future East-West rail service to the Berkshires. Albany-Rensselaer is Amtrak's ninth-busiest station, serving a metro region of over a million people. Including it would considerably boost ridership and revenue compare to a train terminating at Pittsfield. At Rensselaer there is also an existing Amtrak crew base, maintenance facility, and currently an operating food service commissary.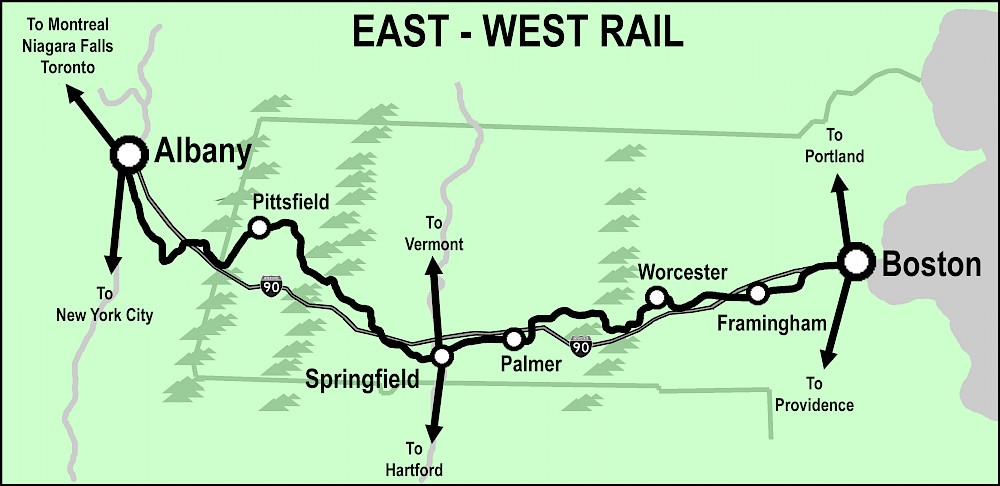 There are a few issues that will need to be examined about the feasibility of using the existing CSX Berkshire Subdivision (former Boston & Albany Railroad) for passenger service. The railway was completed in 1841 and has steep grades and many curves that limit speeds to 50, 40, and even 35-mph in some sections as it crosses the Berkshires and the rolling hills east of the Connecticut River Valley. At 200 miles the railroad is 30 miles longer than the I-90. Today's sole Amtrak train, the Boston-Albany-Chicago long-distance Lake Shore Limited, takes 5-hr 10-min to make the run — compare to 4 hours for Greyhound and 3 hours driving on the I-90 Mass Turnpike.
Yet despite these handicaps of physical infrastructure in the 1950s the New York Central's "Beeliner" passenger service utilizing self-propelled Budd Rail Diesel Cars made the run in 4-hrs 15-mins, while making nine intermediate stops. That works out to an average speed of 47-mph compare to the Lake Shore Limited's 39-mph average speed today. The first Beeliner train from Boston left South Station at 7:15am and arrived Albany at 11:30am.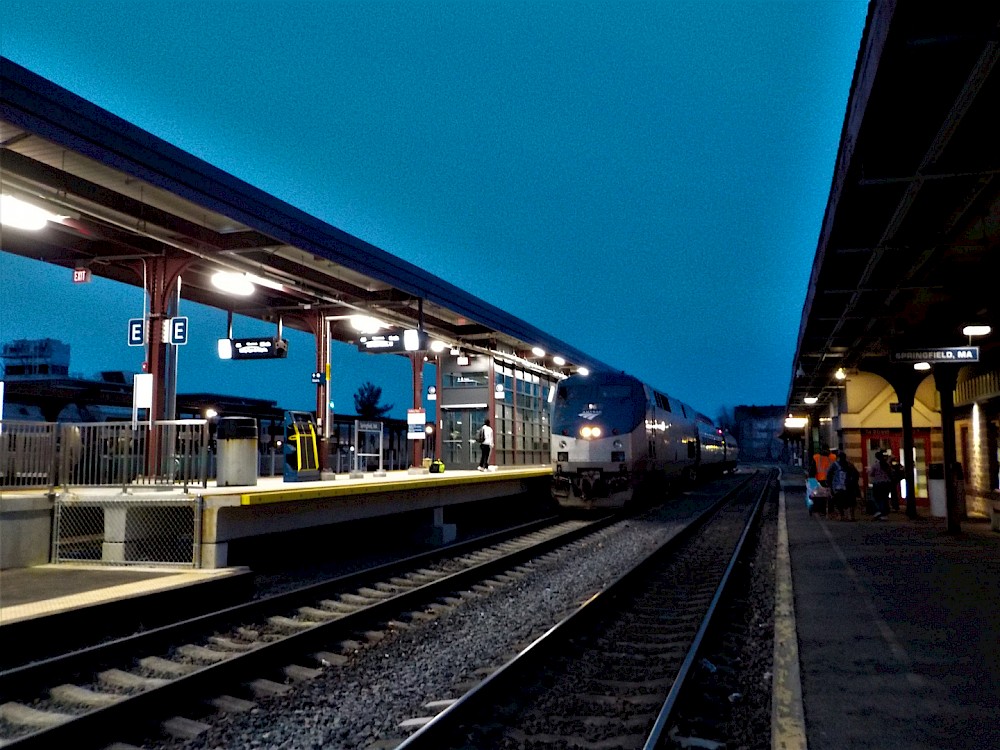 A CT Rail Amtrak train waiting to depart at Springfield Union Station during the evening of February 13th 2020
One big advantage the New York Central had compare to now was that the railroad was then entirely doubled-tracked — although the Beeliners were also considerably faster than the New York Central's then existing long-distance overnight locomotive-hauled trains. Trains like the Boston-Chicago New England States were longer and heavier than the lightweight and high-horsepower Budd RDCs that gave them good grade climbing abilities and fast accelerations. They also didn't carry luggage, mail, or express that mandated lengthy station stops for loading and unloading of baggage cars on the other passenger trains.
For Massachusetts, the benefits of extending the proposed East-West Rail service to Albany would greatly outweigh the costs. By bringing in considerably more additional riders and revenue it would make rail service to the Berkshires more financially viable — while also expanding travel options for both local residents and out-of-town visitors. New York State should step up to aid our neighboring state in a public enterprise that would mutually benefit the citizens and businesses of both our great states. Link to MassDot East-West Passenger Rail Study website.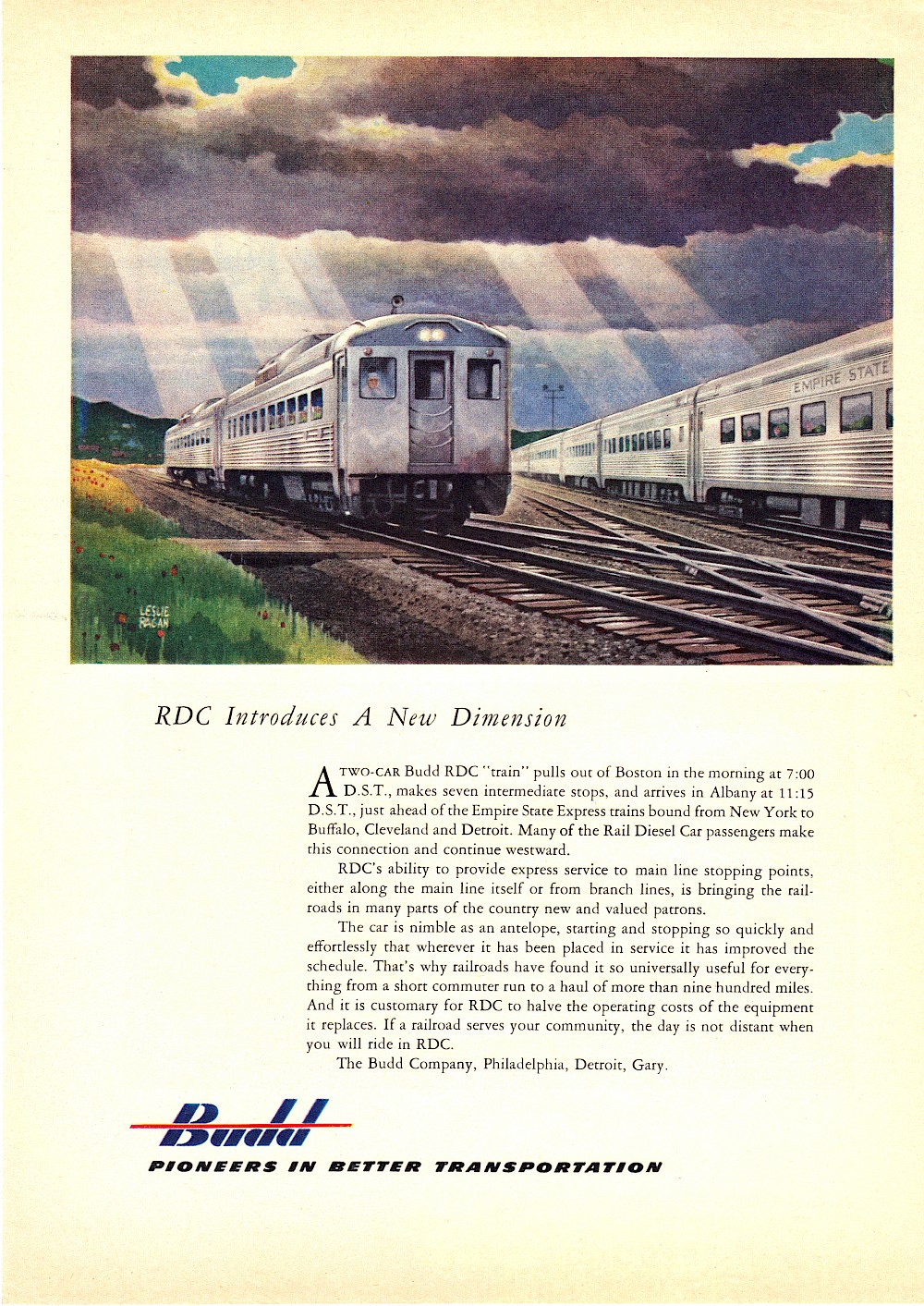 A 1950s print as from the Budd Company featuring the New York Central's Boston-Albany Beeliner service.
---
Southern Tier Passenger Rail Service
There has not been passenger rail service to New York State's "Southern Tier" since before Amtrak's inauguration in 1971. Historically a very smart intercity passenger service had been offered by the Delaware, Lackawanna, and Western Railroad from New York City to Buffalo; made famous by its advertising icon Phoebe Snow, a fashionable young lady whose cloths remain as white as snow because of the lack of smoke ad cinders, the railroad's steam locomotives burning a cleaner hard coal. From 1900 to the First World War Phoebe Snow was featured in a innovative and agressive advertising caipaign of print ads, billboards, vaudville acts, and even a early motion picture. The fictious woman passenger became such a icon that model and actress Murray Gorsch who portrayed Phoebe Snow, drew 5000 people to a reception in Binghamton Press Club in 1905.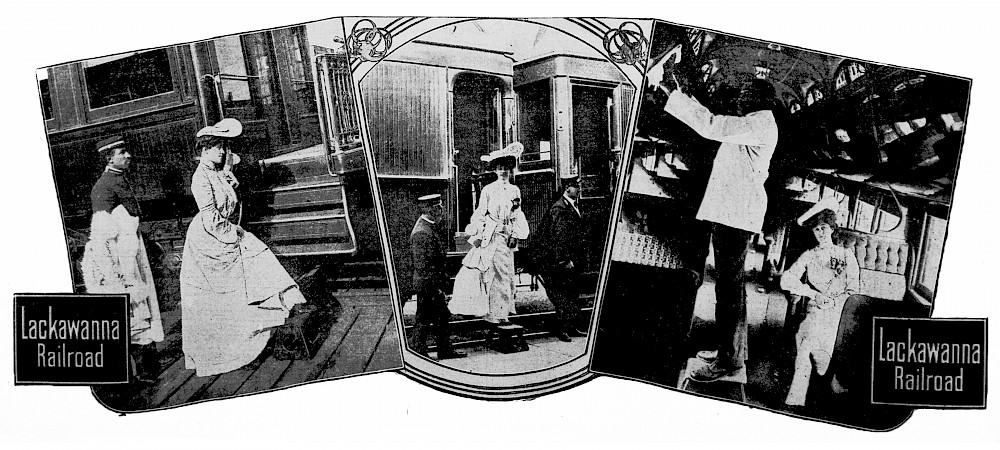 ---
Says Phoebe Snow
about to go
upon a trip to Buffalo
"My gown stays white
from morn till night
Upon the Road of Anthracite"
---
The Lackawanna's mainline ran 395 miles from Hoboken Terminal on the Hudson River opposite Manhattan to Downtown Buffalo, passing through the cities of Scranton, Binghamton, Elmira, Corning. Branch lines of the Lackawanna from Binghamton connected to Cortland, Richfield Springs, Utica, Syracuse, and Oswego. With a shorter and well built mainline the Lackawanna was a viable competitor to the New York Central (435 miles NYC-Buffalo) with its fastest trains only 10 minutes slower than the Empire State Express, despite the mountainous terrain covered through the Poconos and Southern Tier. Yet while the New York Central had Grand Central Terminal in the heart of Midtown Manhattan, passengers of the Lackawanna had a slow ferryboat ride across the Hudson to New York City proper, a significant disadvantage.
Service between Chicago, Buffalo, Binghamton, and New York City was also offered by the Erie Railroad, which merged with the Lackawanna in 1960 to form the Erie-Lackawanna Railroad. These two railroads also offered through service to Chicago, the with trains including the Atlantic/Pacific Express, Erie-Lackawanna Limited, and The Lake Cities. After WWII in the Postwar Era despite a valiant effort by the Lackawanna – including launching a new streamline train named after their beloved advertising character Phoebe Snow – passenger service ended in 1970, a victim of competition from airlines and automobiles.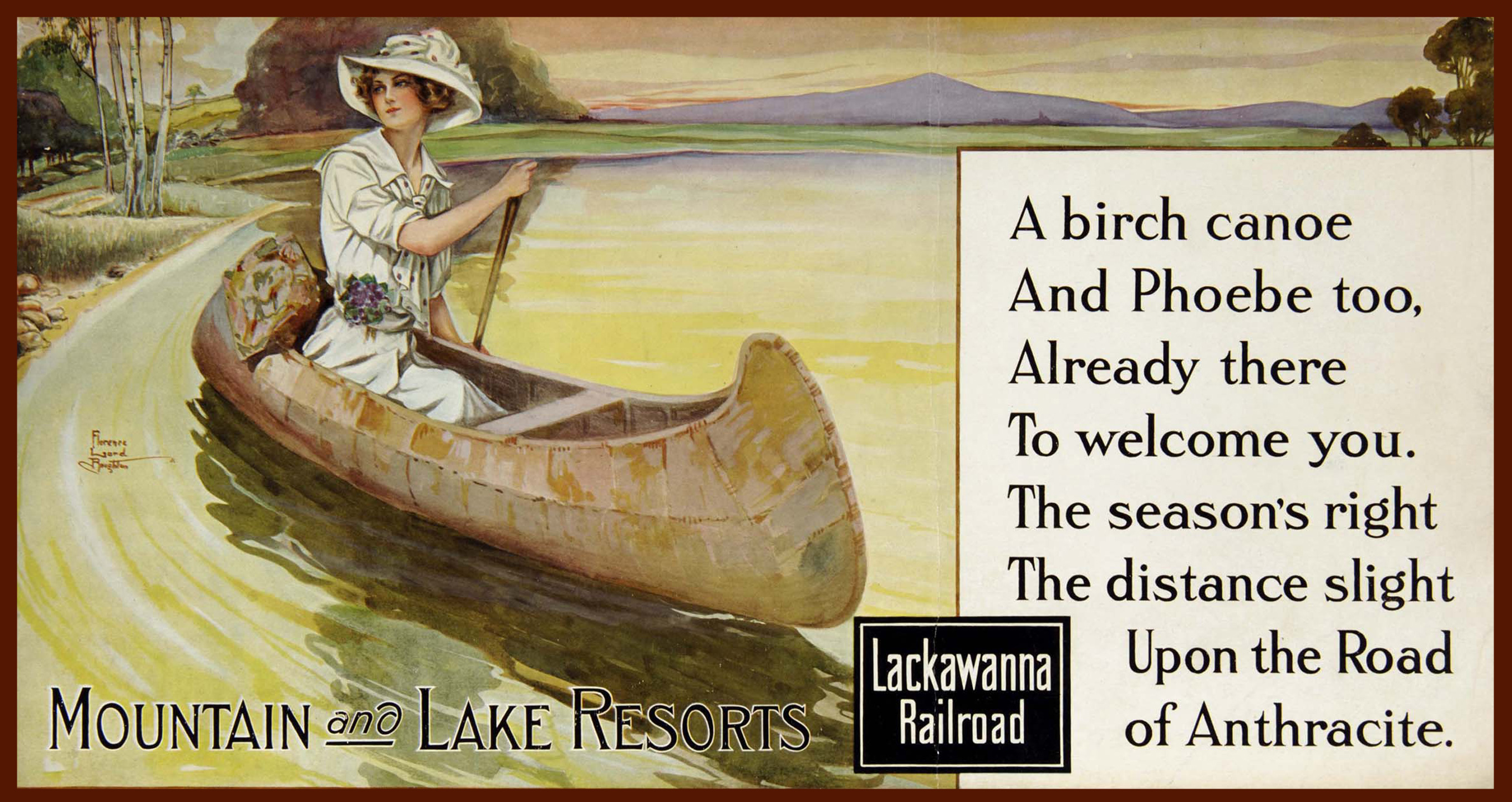 However interest in restoration of passenger rail service as bubbled up to the service over the years, including recently in 2006 when a April's Fool article by Urban Corning announcing that Amtrak was restoring passenger service drew 40,000 responses, with many expressing excitement that passenger trains were coming back, making queries made about ticket prices. Since then several public meetings have been held to build up interest in bringing passenger rail service back to the Southern Tier.
A major obstacle is that the direct route to New York City as been cut, with the abandonment of the Lackawanna Cutoff, a once state-of-the-art 28.5-mile grade separated "super railroad" of epic fills and soaring concrete viaducts from New Jersey across the Delaware into Pennsylvania at the Delaware Water Gap. In the railroad consolidation of the 1970s the tracks were declared redundant and removed by 1984. Since then NJ Transit has re-laid track on a small section of the right-of-way, with plans to extend commuter rail service from Hoboken through to Scranton, Pennsylvania.
Map of the the Lackawanna Cutoff, the section of the former DL&W mainline awaiting restoration. (Map NJ Transit)
The Lackawanna Cutoff Restoration Commuter Rail Study released in March 2020 estimated that the cost of reinstalling about 21 miles of tracks, upgrading two major bridges, and other related work would be about $288.93 million. This figure is roughly half as much as the 2006 estimate of $551 million, largely because it does not include building eight new stations, two maintenance facilities, and other upgrades included in the earlier study. An alterative route would be the former Erie Railroad mainline via Port Jervis (where Metro-North's West of Hudson service operated by NJ Transit ends), but this route as shaper curves, heavy grades, and a longer mileage.
Establishing an intercity rail service from the Southern Tier along this Scranton Route would cost considerably more in track and signaling upgrades, new stations, and rollingstock. The biggest hurtle however would be getting three state governments, New Jersey, Pennsylvania, and New York to come together to work cooperatively on a joint infrastructure project. Yet it would be worth the effort, to bring to the communities of the Southern Tier the benefits of passenger rail now enjoyed by those cities now served by the Empire Corridor. A history of the Lackawanna Cut-Off and the Wikipedia page for the Lackawanna Cut-Off Restoration Project.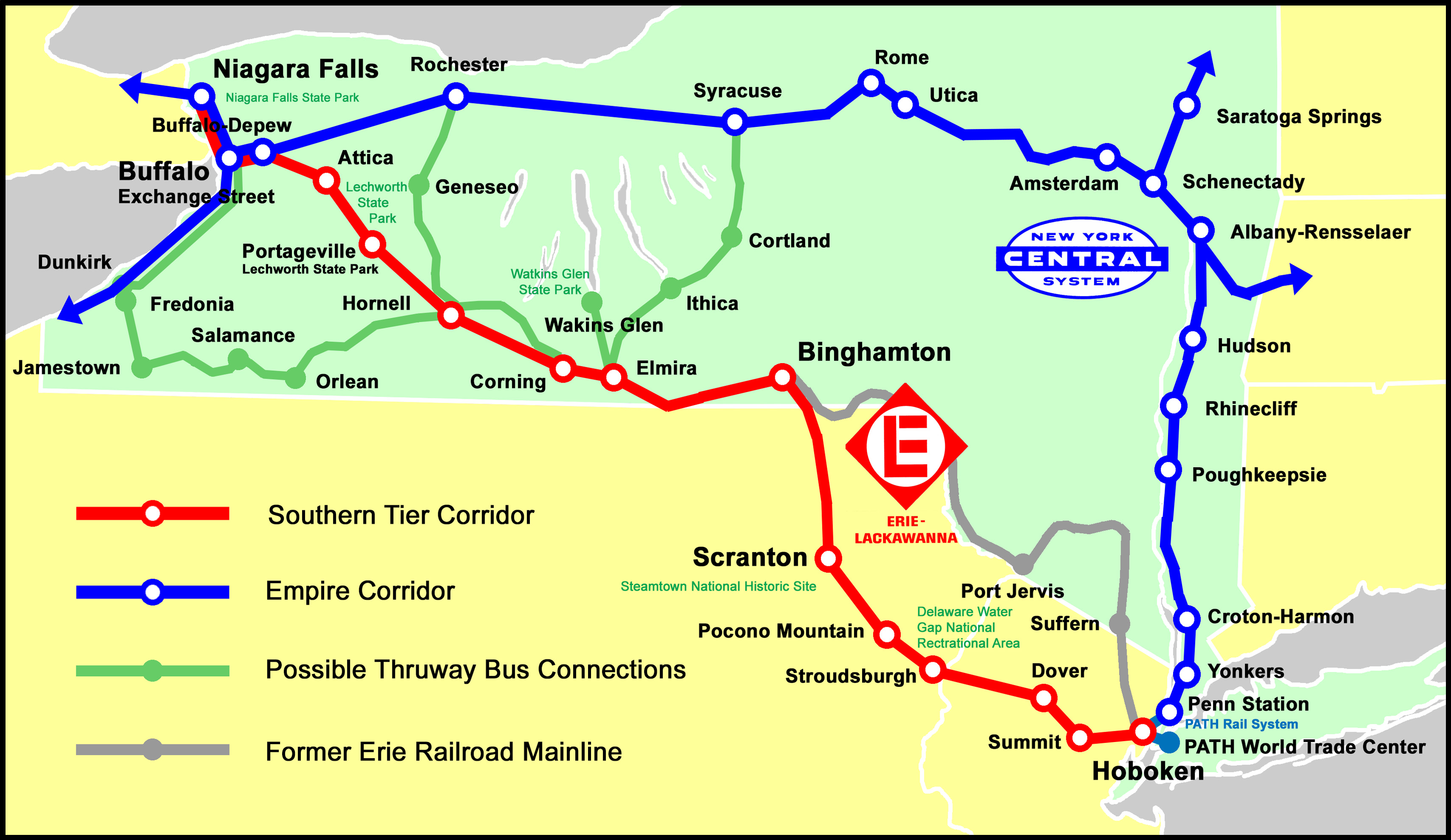 ---

Examine Future Railroad Electrification and Hydrogen Fuel Cells
New York State has become a leader in confronting the challenge of climate change from global warming caused by the emission of greenhouse gases – primarily CO2 – from the burning of fossil fuels by passing the Climate Leadership and Community Protection Act during the spring legislating session. The climate act's mandate to go net-carbon neutral is both an alluring opportunity and daunting challenge for the rail industry within the Empire State. The bill mandates that the state all but eliminate its greenhouse gas emissions by 2050 through the elimination of the burning of fossil fuels in power generation and transportation. The goal is by 2050 to cut greenhouse gas emissions to 85% of 1990 levels, with the remaining 15% offset by reforestation, wetland creation, or carbon capturing through technological means. Electric traction utilizing power from renewable energy offers a clean alternative to the fossil fuel diesel traction of current locomotives. Railroad electrification can play a meaningful part in meeting the ambitious but necessary goals the climate act.
The Climate Leadership and Community Protection Act has lead to the creation of a 22-person "climate action council" comprising of top state officials; who are being advised by smaller working groups with expertise in specific areas from forestry to economic development. With one-third of the state's emissions being from transportation, both freight and passenger rail will have to be address. It would make sense for this Climate Action Council, as well as the panel of experts called upon by Governor Cuomo to study high speed rail, to both study railroad electrification. The Transportation Advisory Panel of the Climate Council should investigate the plans and efforts of other nations, including the United Kingdom, to electrify their railway networks and eliminate diesel traction by mid-century
The logical place to start a program of electrification is Metro-North commuter and Amtrak intercity passenger service on the Hudson Line, north of the existing third rail electrification, that ends at Croton-Harmon to Rensselaer and Schenectady. These tracks are publicly owned and maintained by Metro-North and Amtrak, carrying heavy passenger traffic. If a preliminary Hudson Line electrification study were undertaken in the next few years, it's possible that with the necessary planning, approvals, funding, and construction, that electrification could be completed by the early 2030s.
The current legacy DC third rail territory south of Croton-Harmon would complicate an electrification project installing a modern overhead AC catenary system (as used on the Northeast Corridor and all high speed trains world-wide) but Metro-North already deals with this effectively by using bi-mode trainsets for service between Grand Central Terminal (DC third rail) and Connecticut (AC catenary). The electric multiple unit (EMU) trainsets make a seamless switch while at speed at Pelham Station on the New Haven Line from Grand Central, just south of the junction with Amtrak's Northeast Corridor to Penn Station. Also the orginal Eurostar high-speed trainsets of the Channel Tunnel were designed to run off AC catenary in France on modern TGV high-speed tracks and DC third rail on the Victorian commuter tracks into London's Waterloo Station. Future electric locomotives and multiple-unit trainsets on the Hudson Line would similarly have to be designed for bi-mode electric operation, perhaps for Amtrak tri-mode with diesel/hydrogen power for operation over un-electrified tracks owned by the freight railroads north and west of the Capital District. Amtrak is currently considering bi-mode and tri-mode electric trainsets for use on the Northeast Corridor and into non-electrified territory in Virginia and North Carolina.

The state should also explore the use of hydrogen fuel-cells for railroad traction, given that Alstom a major in-state rail manufacturer – its plant at Hornell is building the new Amtrak Acela trainsets – is developing such rail vehicles in Europe. Hydrogen passenger trains are already in commercial service in Lower Saxony, the windiest state in Germany in terms of power generation. Alstom's Coradia iLint is a hydrogen fuel cell multiple-unit trainset derived from an existing regional train design that entered commercial service in September 2018 in Lower Saxoney. The German state has an order for 14 two-car trainsets with another state ordering a further 27 sets.
Hydrogen produced through electrolysis from electrical power generated by renewable energy would be carbon-neutral and could take advantage of low-cost power produced by wind and hydropower during off-peak hours at night. However the low-density of the gaseous hydrogen requires considerably greater storage volume than that of liquid diesel fuel, reducing range or requiring a tender car with a hydrogen tank, like freight trains powered by CNG on some American railroads like the Florida East Coast Railway. One solution is to use hydrogen fuel-cells to bridge gaps in electrification. Alstom is working with the SNCF (French National Railway) to develop a 100-mph (160km/h) bi-mode train equipped for overhead electric and fuel cell operation. The 236-foot-long four-car train will accommodate 230 seated passengers. With capacity for up to 200kg of hydrogen the trainset will have a range of 250-375 miles (400-600km) on non-electrified lines between fueling cycles.

Railroad electric traction was pioneered in New York with the electrifying of trains into Grand Central and Penn Stations, and later with the full electrification of the Pennsylvania's New York-Washington mainline in the 1930s. In Schenectady both GE and ALCO pioneered diesel-electric traction that rapidly replaced steam after WWII. Today New York State is home to a large rail manufacturing industry, including Alstom which is building Amtrak's next-generation Acela trainsets. New York should leverage this instate rail manufacturing capability and expertise to become a leader in zero-emission rail motive power.
---
Creating a Robust State Rail Program
New York State Department of Transportation (NYSDOT) has for many years a dedicated but small staff within its rail division devoted to passenger rail. ESPA believes it is time for NYS DOT to begin building a robust state rail program like the active state rail programs in Michigan, North Carolina, Virginia, California and Washington State. These states and others have active and robust state rail programs that not only fund their PRIAA Section 209 state suppported Amtrak trains, but also have strong Amtrak oversight activity, and a multi-year planning programs for improvements to rail service in their states and a capital program to use in conjunction with federal matching funds from the Federal Railroad Administration (FRA).
The Federal Railroad Administration and federal law requires that states maintain a State Rail Plan and update it at least every four years. The last approved NYS Rail Plan was issued way back in 2009. NYSDOT needs to initiate the required update of the State Rail Plan as soon as possible. A failure to do so could jeopardize New York's eligibility to apply for and receive FRA discretionary grant funds. ESPA also recommends that the State Legislation pass a bill requiring a periodic State Comptroller's audit of the PRIAA Section 209 Amtrak service contract. Additional disclosure is the first step in providing transparency and greater accountability on the quality and quantity of Amtrak service within New York State.

Across the state in Spring 2014 a series of public workshops were held for the "High Speed Rail" Empire Corridor Tier 1 EIS study.
A serious desheartening issue for ESPA is long delay of the Tier I Environmental Impact Statement (EIS) for the Empire Corridor. The process started in 2009 with a Draft EIS released for public review in March 2014. As of Summer 2020 the target date for the completion of the Tier One 'Empire Corridor Improvements - Service Development Plan' Enviromental Impact Statement (EIS) & Final Record of Decision is June 29, 2021 — and if this newest of several unmet target dates is met, the entire Tier One EIS process will have ONLY taken 11 years & 281 days! Competition of an EIS signed off on by the Federal Railroad Administration will be necessary for further federal funding of our passenger rail system in the future. The State has over the decades completed several studies on high speed rail — including unfortunately the yet to be released EIS — with little to show beyond dust gathering on thick binders of paper.
The extensive use of consultants for state rail planning needs to be reassessed. Overseas HSR is planned and built by national railways with large in-house staffs of civil engineers and other experts with practical experience of running modern passenger rail services. In the USA it is done by state DOTs and their hired private consultants. California's HSR project – to save money – was entirely outsourced to consultants, likely with only theoretical knowledge of HSR. With no independent expertise to question them, questionable decisions led to an unquestionably bad outcome — the project to connect the San Francisco and Los Angeles with a 220-mph high speed rail line falling far behind schedule and way over budget. Governor Galvin Newson is now (in 2020) working to get the mismanaged project back on track by beefing up the state's HSR authority with in-house expertise provided by employees on the state's payroll.

The unrebuilt 1970s Turboliner trainsets of the Pataki Era High Speed Rail Program met a sad fate in December 2012.
New York State had its own high-speed failure during the Pataki Administration with the Turboliner project. The plan was to rebuild seven 1970s gas-turbine trainsets to run on upgraded tracks between the Capital District and New York City. However, the project fell flat on its face when the unfunded rail improvements were not made by Amtrak, while the rail manufacturer Super Steel in Scotia struggled to rebuild the Turboliner fleet. An after-action report by the State Controller blamed NYSDOT for not having the necessary rail experience to competently oversee the project. The result was NYSDOT suing Amtrak, with Super Steel going out-of-business. A decade later the Cuomo Administration settled the lawsuit and scrapped the half-rebuilt Turboliners, their Rotterdam warehouse of parts sold at public auction on a rainy winter day.
This is in stark contrast to the great success that NYSDOT had during 1970-80s with "high speed rail". Starting with several bond acts over a $100 million was invested in tracks, signals, and stations. Travel time was cut and train frequency increased between New York City and Albany. The infrastructure renewal program enabled an increase New York City-Albany in train frequencies from 6 to 9 daily roundtrips, with a slashing of travel times from 3 hours to 2-hrs 15-mins by the early 1980s. The result was a 75% increase by 1983 in ridership over the 1974 number, with trains carrying 1.25 million passengers. This growth significantly was higher than the national average by other Amtrak services, the Empire Corridor becoming Amtrak's busiest service route outside the Boston-New York-Washington Northeast Corridor.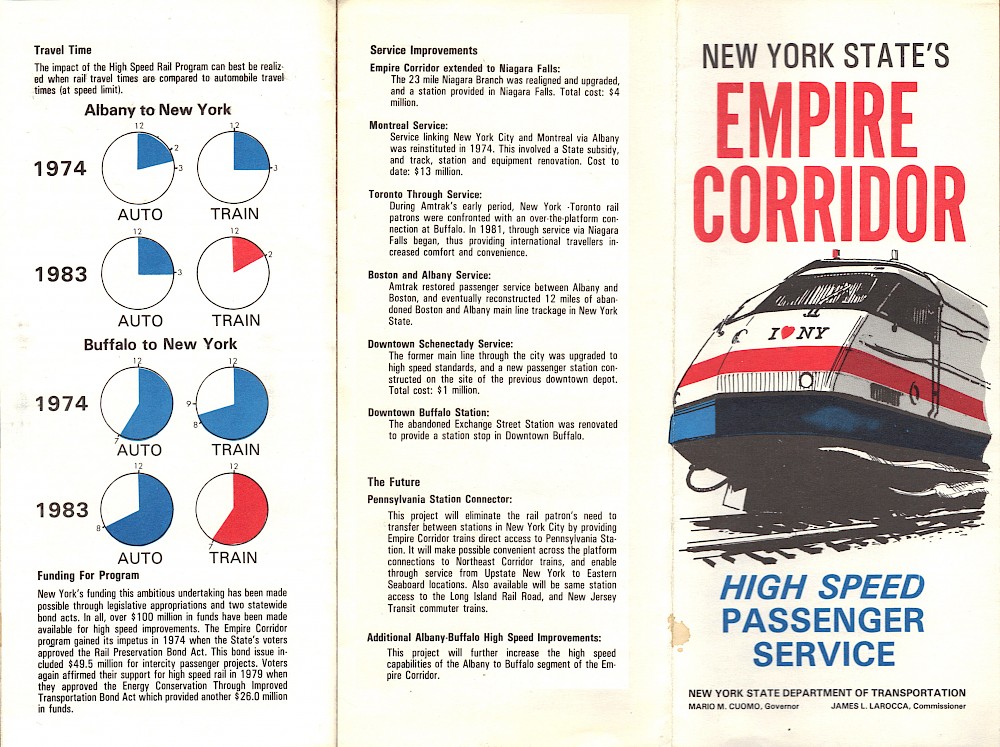 ABOVE & BELOW: NYSDOT brochure on the sucessful 1975-85 High Speed Rail Program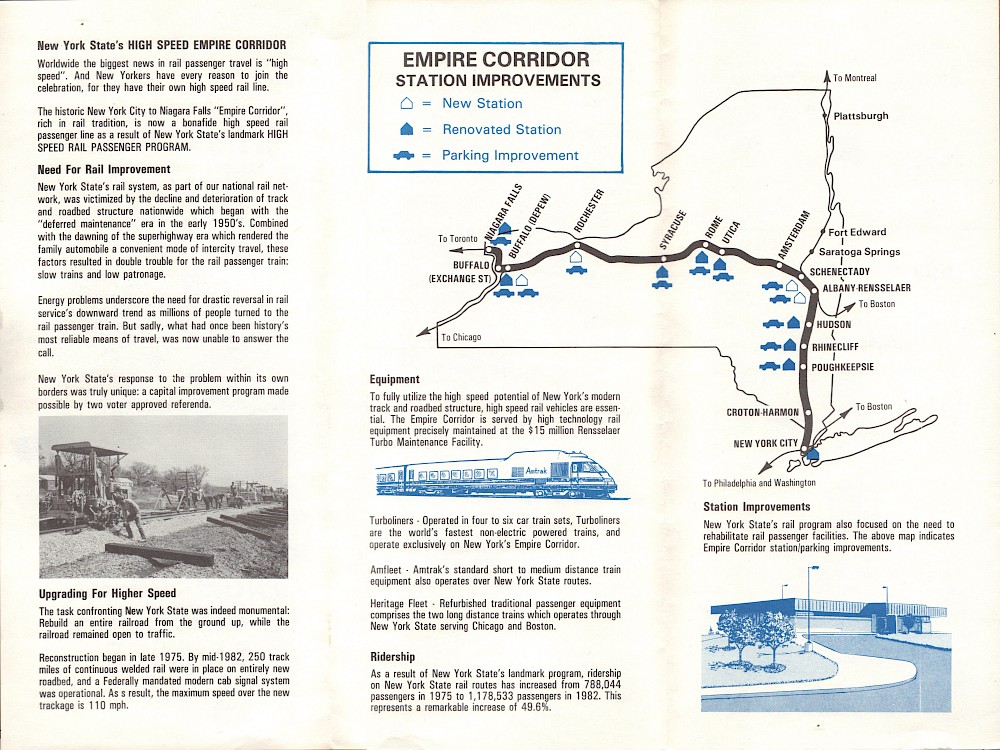 This success was possible because the state's well-funded HSR Program was also well managed by a rail division within NYSDOT that was sizably staff with dedicated and knowledgeable people. Outside planning and engineering consultants have played an important role in railroad projects since the early days of the 1830s, but they can't replace a good internal core project team. Right now, NYS's rail planning activities for the Empire Corridor are insufficient and need to be greatly expanded if current paper and digital plans are to become future steel and concrete.
---