Rail Planning and Management
Planning and Management of the Empire Corridor

ABOVE: For Amtrak in the 1970s when introduced the futuristic Turboliners were the very image of high speed rail
---
The great potential of the Empire Corridor has been repletely stymied by a lack of institutional capacity at the state level necessary to envision, plan, build, and manage investment in intercity passenger rail infrastructure and services. These needs to change if Upstate NY is to be ever be served by a modern intercity rail service.
---
If New York State going forward is to have a robust program for intercity rail, it is going to have to have a robust "Passenger Rail Division" within New York State Department of Transportation (NYSDOT). The spinning of the wheels of the Empire Corridor HSR Environmental Impact Study (EIS) and lack of an updated state rail plan – as required by federal law – are symptoms of the problem of state-supported passenger rail service at NYSDOT. The Freight and Passenger Rail Bureau – with a very small, dedicated staff – is very far down the organizational flow chart at NYSDOT, compare to other state DOTs with robust PRIIA Section 209 state-supported Amtrak corridor services. Several states have established passenger rail authorities to manage their corridor services.
We however cannot to ignore that New York state over the past decade has made a significant investment in the Empire Corridor, a credit to the efforts of the staff of the Freight and Passenger Rail Bureau within the Office of Integrated Modal Services and the Rail Projects Group located within NYSDOT's Engineering Division. With the receipt and implementation of large American Recovery & Reinvestment Act High Speed Rail and USDOT TIGER grants during the Obama Administration several large projects were completed – including the Albany-Schenectady second track; track and platform work at the Rensselaer station; signaling and grade crossing work on the Hudson Line; and the construction of several new stations in Upstate New York at Schenectady, Rochester, Buffalo-Exchange Street, and Niagara Falls.
Yet now in the 2020s there are no major project plans exist to further invest in intercity passenger rail in Upstate NY. As of spring 2022 the release date of the Empire Corridor Environmental Impact Statement is moved back every year since the release of the Draft EIS in spring of 2014. The state has also failed to update its State Rail Plan issued in 2009. Other states that have impressive programs for their state supported PRIIA Section 209 Amtrak corridors, have large and capable organizations overseeing passenger rail. For example: North Carolina and Washington State have a large rail divisions within their DOTs to actively manage their Amtrak Cascades and Piedmont/Carolinian services; Maine created an passenger rail authority for the Downeaster; and California joint-power authorities for the Capital Corridor, San Joaquin, and Pacific Surfliner.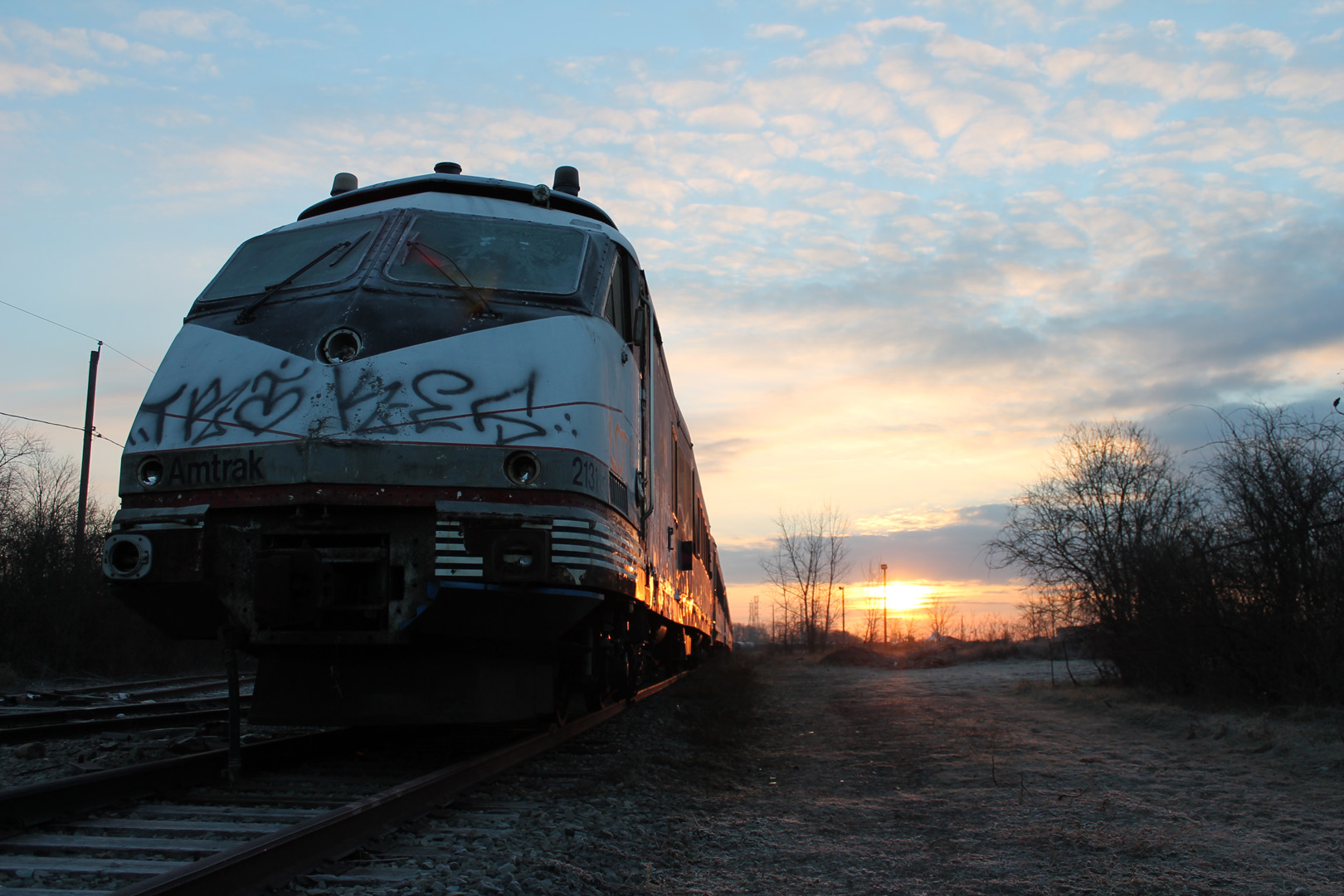 ABOVE: A forlorn Turboliner trainset awaits its sad end on a cold winter day in December 2012
---
Organizational Failure
When NYSDOT had a sizable rail division in the 1970-80s the state had an impressive intercity rail program. Starting with several bond acts over a $100 million was invested in tracks, signals, and stations; while travel time was cut and train frequency increased between New York City and Albany. The result was a 75% increase by 1983 in ridership over 1974 number, with trains carrying 1.25 million passengers. This was growth significantly higher than the national average by other Amtrak services. Budget cutting however shrank the rail division in the late-1980s to a bureau, leading to a loss of institutional knowledge and capability.
The end result was the high-speed failure of the Pataki Era Turboliner Program, a late-1990s project to rebuild the Empire Service's 1970-era Turboliner gas-turbine trainsets and upgrade tracks, that would accelerate Amtrak service NYC-Albany. According to a 2003 report by the state controller mismanagement by NYSDOT was a primary cause – the agency according to the report lack the necessary experience to run a complex rail project. It would not be till the administration of Andrew Cuomo a decade later that the resulting lawsuit with Amtrak would be settled; with the half-rebuilt 1970 era Turboliner trains scrapped with their warehouse full of parts sold at public auction on a rainy winter day.
An even bigger mismanagement of a state high speed rail program has occurred in California. In 2008 voters approved a $10 billion ballot issue to jump start the estimated $33 billion HSR project that had been in planning for over a decade by a dedicated authority, the California High Speed Rail Authority (CHSRA). Rather than beefing up the authority's staff with in-house planners, engineers, and other experts, the decision was made to save money – beyond a tiny staff of a dozen individuals – outsourcing the entire effort to private consultants, led by the international engineering firm WSP.
The result a decade later is a fiasco as the project fell years behind schedule and many tens of billion over budget. Governor Gavin Newsom is working to get the project back on track by reducing dependency on consultants and contractors; bringing the necessarily talent into state employment within the CaHSRA. The insitutional failure of having a part-time board oversee a public megaproject entirely run by private consultants and contractors has greatly damage the image of high-speed rail in America.
For public works megaprojects from the Panama Canal to the Hoover Dam to the Interstate Highway System, private engineering and construction firms have played a big role. Yet without proper oversight and independent knowledge by the public agency responsible for the project – unquestioned bad decisions can lead to unquestionably bad outcomes. Overall, the public sector in New York State and America at large has become very bad at infrastructure in the last several decades. Recent reporting by the New York Times on two MTA projects – the 2nd Ave Subway and LIRR East Side Access – showed how these projects cost billions more than comparable projects in Europe and East Asia. Compare to subway construction in Paris, in New York City there was a shocking lack of following international best practices in management and construction of rail infrastructure.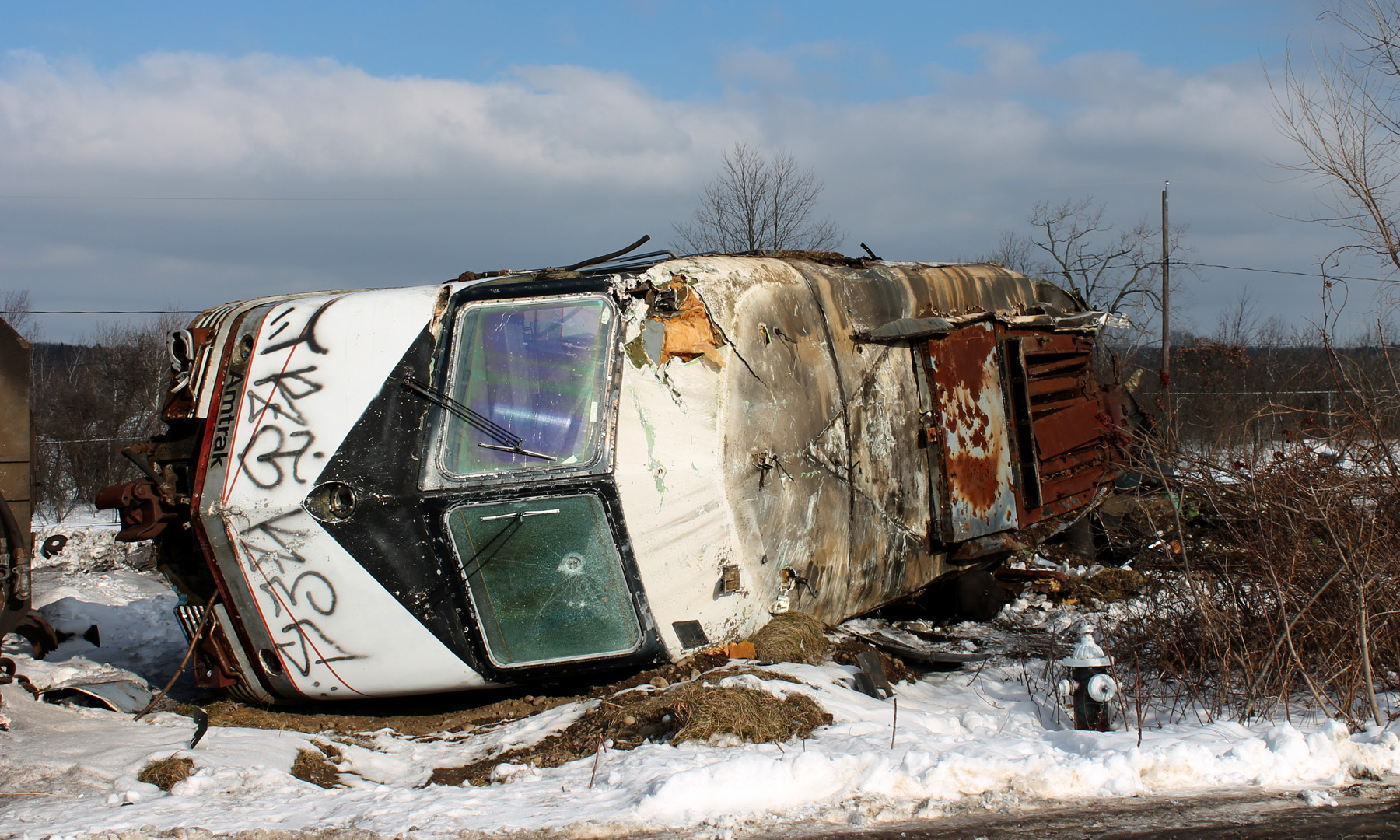 ABOVE: The front power car of a Turboliner being scrapped in January 2013
---
Success in Virginia
Virginia has become a leader in the state planning, management, and financing of its state supported passenger rail services. The Commonwealth has been making steady progress over the past decade improving and expanding its Amtrak service. On October 26th, 2020 the board of the new Virginia Passenger Rail Authority (VPRA) met for the first time (virtually online) to outline their role in the Commonwealth's grand program of building a modern higher speed passenger rail system, including the rebuilding of the Washington DC-Richmond mainline into a 90-mph triple track railway.
The VPRA board includes 13 voting members, chaired by the Director of the Department of Rail and Public Transportation, and 2 non-voting "ex-officio" members from Amtrak and the Virginia Railway Express. The VPRA board includes Charlottesville resident Wick Moorman, the former president and CEO of both Amtrak and Norfolk Southern. The creation of a dedicated rail authority to complement the existing Department of Rail and Public Transportation (DRPT) was necessary to oversee the public state ownership and management of rail right-of-way and infrastructure in Virginia.
The authority has the power to build and maintain rail facilities, borrow money, and issue bonds to finance rail facilities. The Commonwealth in December 2019 made a deal with the freight railroads to invest in rail infrastructure as part of the $3.7B landmark agreement – called Transforming Rail in Virginia Transforming Rail in Virginia (TRV) – that includes purchase of over 350 miles of railroad ROW and 225 miles of track of track – with the freight railroad CSX and VPRA sharing ownership of the key DC-Richmond mainline.
Foremost among the projects being pursued by Virginia is the program to build a higher speed passenger rail service along the 1-95 corridor from the Long Bridge over the Potomac to the North Carolina border. Virginia is now working with freight railroad CSX to build a 90-mph dedicated passenger track on the state owned right-of-way of the DC-Richmond mainline, reducing 30 minutes from the current over 2-hours travel time, while increasing the daily Amtrak frequency to 15 round-trips with additional Northeast Regional trains extended from the Boston-DC Northeast Corridor. The Virginia Railway Express also will see significant benefits from this investment with expanded commuter service.
South of Richmond the Commonwealth is working with North Carolina to convert the dormant S-Line railroad into a 110-mph passenger railway to Raleigh, part of a "Southeast Corridor" from Washington DC to Charlotte, NC. Branching off from this higher-speed corridor is Amtrak Northeast Regional service to Newport News and Norfolk. Expansion of Northeast Regional service is planned for along the tracks of Norfolk Southern to Charlottesville, Lynchburg, and Roanoke in the western Virginia. The Commonwealth is also examining an east-west Virginia Beach-to-Blue Ridge Mountains service across the state on newly purchase freight tracks.
The impressive progress being made by the Commonwealth of Virginia with its intercity rail could not have happen without the state first addressing the managerial and funding issues of its intercity passenger rail program. In 1992 to better plan and manage the state's public transport and railroad efforts legislation was passed to spin off from the Department of Transportation (VDOT) the 'Virginia Department of Rail and Public Transportation' (DRPT) as an independent dedicated agency reporting directly to state's secretary of transportation.
Most states supported their Section 209 Amtrak corridor services with annual legislative appropriations. Virginia decided on a different path becoming in 2011 the first state to create a secure and sustainable dedicated funding source for intercity passenger rail. The 'Intercity Passenger Rail Operating and Capital Fund' (IPROC) covers both the operating and capital costs of Virginia's state supported passenger rail services. The IPROC fund receives a dedicate stream of revenue, approximately $55m annually, from a 40% share of a 0.125% increase in the general sales and use tax. Virginia then pools this money with additional funding from the state and local government, the freight railroads, and the federal government.
Virginia's state-sponsored Amtrak services over the past decade have grown from one to four routes and include six daily round-trip trains, with average annual ridership in 2019 exceeding 971,415 with 15% annual growth, far above the 2.4% increase among all state-supported lines in the rest of the Amtrak system. Political support for rail in Virginia is broad with extensive media coverage of the planning and successes of the state's program. Clearly doing the hard work in creating a sustainable managerial, planning, and funding structure for investing in passenger rail has paid big dividends to the Commonwealth of Virginia.
Going Forward
Moving forward New York State needs to increase the staffing and budgeting for the currently small state rail bureau at NYSDOT. And not just to plan the state's future intercity rail system, but to manage the trains – the Empire Service, Maple Leaf, Adirondack, and with Vermont the Ethan Allen Express – that the state today pays Amtrak some $45 million annually under contract to run as required by the 2008 Passenger Rail Investment and Improvement Act (PRIIA). Many states have complained about Amtrak's unresponsive management and opaque financial accounting of its state-supported services, requiring that state goverments to have the ability to ensure that Amtrak is delivoring on what it is contracted to provide.
Currently Upstate NY's rail service seems to be on autopilot, the overall service on the Empire Corridor has not change in terms of speed, frequency, or capacity since the early 1990s. If New York State is going to have in the future a world class intercity rail passenger system – it will need to step up its game by building up a respectable staff corps of professional passenger rail managers, engineers, and other experts within NYSDOT, or perhaps create a new independent passenger rail authority to plan and manage the Empire Corridor, as other states have done.
---
---