March 23, 2023
Amtrak and Regional Authority Release Study Examining the Scranton – New York Corridor
A two-year analysis of potential rail service between Scranton and New York City estimates the service could carry more than 470,000 riders per year and generate some $111 million annually in economic benefits. The study included operations planning to develop a sample schedule, ridership estimates, economic impacts and an infrastructure assessment for the Pennsylvania segment. The infrastructure assessment estimates costs to upgrade track to accommodate passenger trains along 60 route miles owned by PNRRA between Scranton and the Delaware Water Gap.
The new Amtrak intercity service would have three daily roundtrips and a 2:50 travel time, for an average speed of about 50 mph. Trains would travel at a maximum speed of up to 110 mph over the restored Lackawanna Cutoff segment, and 60-to-80 mph on other segments with significant curvature and commuter traffic. Stations would be located in Scranton, Mt. Pocono, East Stroudsburg, Blairstown, Dover, Morristown, Montclair, Newark and New York City (Penn Station).
Service could potentially begin as early as 2028, pending completion of design work and construction by stakeholders including PennDOT, NJ TRANSIT and PNRRA with support and funding from the federal government. The proposed service would utilize upgraded existing tracks in Pennsylvania between Scranton and the Delaware Water Gap, 20 miles of restored tracks on the "Lackawanna Cutoff" between Delaware Water Gap and Andover, New Jersey, and existing tracks owned and operated by NJ TRANSIT and Amtrak between Andover and New York City.
This newly released report estimates that track improvements on the PNRRA owned segment will cost between $100M – $175M, while acquisition of trains is estimated to cost approximately $70M – 90M; these two items are anticipated to be about 30-45% of the total project cost. More design work will estimate the total cost of re-establishing Scranton – New York City passenger rail service, including fully restoring the Lackawanna Cutoff, building stations and creating an equipment service facility. Acceptance of the project into the Corridor ID program would accelerate the process needed to restore this important transportation connection.
---
LINK TO THE "ANALYSIS OF OPTIONS FOR SCRANTON – NEW YORK AMTRAK PASSENGER RAIL SERVICE STUDY"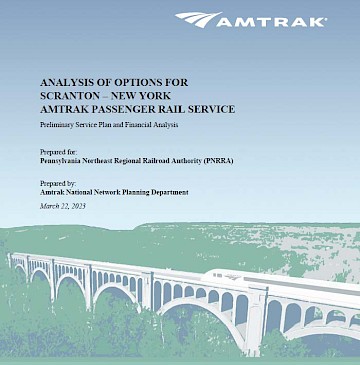 ---
LINK TO 'SOUTHERN TIER SERVICE' ON THE ESPA WEBSITE
---
LINKS TO Corrdior Infrastructure Assessment Report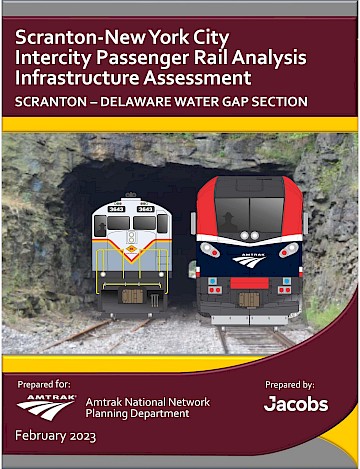 NOTE: These links are to LARGE PDF files!
---